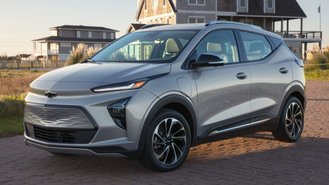 General Motors has announced October as the start date for battery replacement on the Chevy Bolt EV and Bolt EUVs which are affected by the current recall. Affected batteries have an increased risk of fire.
GM had to expand on its initial recall efforts in August after two Bolt EV batteries that were thought to have been repaired caught fire. With the attempted permanent fix not taking, GM plans to replace all affected batteries. New batteries include an extended battery 8-year/100,000-mile limited warranty.
If your vehicle is affected by the recall, GM has a notification process in place, and you should receive word when your replacement module is available. If you're unsure whether your Bolt is affected contact your dealership or GM for more information.
To help prevent fires from claiming more vehicles, GM is introducing a new advanced diagnostic software that can detect anomalies in battery charging. Once your vehicle is updated with the software package, batteries should be able to be charged past the current 90% guideline that was put in place to prevent possible fires. Software updates require dealer installation and should be available around mid-November.
Battery replacement and software updates are helping current Bolt consumers, but that may not be enough to instill confidence in all would-be Bolt buyers. Even though the defect that must be present to cause fires is considered rare, more steps may need to be taken to keep a wide customer base for the Bolt EV and EUV.
General Motors and LG, who manufactured the batteries involved in the recall, have put new processes in place in both manufacturing and quality assurance since the recall. Two Michigan plants at Holland and Hazel Park have already begun production of new battery modules, other LG plants will implement these precautions going forward. The modules should become available to affected consumers as soon as October
If you're willing to wait for your replacement module, GM recommends following the safety standards they've set out to lower your risk of a battery fire. But, they've updated their guidance on parking, saying that you can park where you choose as long as you're following the charging guidance.
If you're not willing to wait out the recall, it may be a good time to look into whether or not GM can buy back your recalled vehicle. Now is also a good time to try and sell if you're looking to get out of a vehicle. Resale values have been climbing thanks to a boom in used car buying.