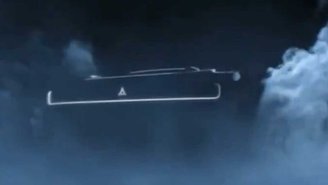 Dodge, the American automaker that continues to stick to brawny V8-powered muscle cars, has just announced that it plans to make an all-electric muscle in 2024. The news comes at the same time when Stellantis (formerly FCA) announced that it expects more than 40% of its U.S. sales to come from electrified vehicles by 2030. To reach that goal, the automaker will be introducing new electrified offerings from Dodge and Ram. Obviously, an electric muscle car from Dodge will be one of the more exciting electrified vehicles to arrive.
Beyond a few unclear pictures, Dodge didn't provide a lot more information on the upcoming electric muscle car. It's difficult to say whether the EV will be based on the two-door Challenger or four-door Charger. From the pictures, the only clear thing we can spot is the Fratzog logo that Dodge placed on vehicles from the '60s and '70s. So, we expect the EV to have retro styling with properly modern performance.
As far as Stellantis' push toward electrified vehicles goes, the automaker wants to have all 14 of its brands to offer a fully electric vehicle globally by 2030. For Dodge, coming out with an electric muscle car is the brand's way of responding to the "sea of change in the marketplace," claims CEO Tim Kuniskis. Dodge isn't the only automaker under Stellantis' lineup to come out with an EV by 2024, as an electric version of the Ram 1500 will also come out at that date.
While Ford and General Motors will have all-electric pickup trucks on market before Ram, the latter is more interested in having a full lineup of electrified vehicles instead of just one offering. "Ram will offer a fully-electrified solution in the majority of our segments by 2025, and a full portfolio of electric solutions for all of our segments no later than 2030," said Ram CEO Mike Koval, reports Automotive News.
To reach its goal, Stellantis will be investing more than $35.54 billion into electrifying its lineup through 2025. By then, the automaker hopes to have four BEV platforms that will have an all-electric range of 300 miles to 500 miles. Stellantis aims to have five battery plants in Europe and North America to compete with other brands that have gotten a head start on the electrification process.
Stellantis' electrification plans match ones by its main rivals. Ford has plans to invest $29 billion in EVs through 2025, while GM announced that its investment will be around $27 billion by the same date. Ford wants to become a zero-emission brand by 2035 and expects 40% of its global sales to come from electrified vehicles. GM's EV plans include having 30 electrified vehicles on sales globally by 2025, 20 of which will be available in North America.
Explore Dodge's Current Lineup
Pictured: Dodge EV teaser (top), 2021 Challenger (middle)