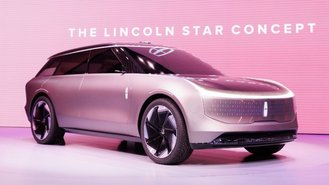 With Ford making huge changes to focus more on electric vehicles, it was only a matter of time until Lincoln set its crosshairs on electrified vehicles. Ford's luxury brand recently revealed the new Lincoln Star concept as a preview of what's in store from Lincoln's three upcoming electric vehicles that will come out in 2025. The Lincoln Star Concept is being used to showcase how Lincoln's Quiet Flight DNA will evolve for an electrified future.
Currently, Lincoln doesn't have any all-electric vehicles on sale. The automaker offers plug-in-hybrid versions of the Aviator and Corsair. The Corsair PHEV comes with a 2.5-liter four-cylinder with two electric motors and a 14.4-kWh battery pack, while the Aviator PHEV comes with a turbocharged 3.0-liter V6 engine, an electric motor, and a 13.6-kWh lithium-ion battery pack.
In the near future, Lincoln plans to have three production electric SUVs on sale by 2025. A fourth model is expected to arrive in 2026. All of the luxury SUVs will have the new Quiet Flight design that's found on the Star Concept.
While most people would expect Lincoln to come out with a rebadged version of the Ford Mustang Mach-E, the Star has a far more upscale design with futuristic touches. It's a very different SUV to the Mach-E. The concept has short overhangs, a grille-less front end, dramatic lighting that spans the full width of the SUV, and back-lit emblems. The rear end of the Star Concept is just as striking with a full-length taillight, a sharp liftgate, and sweeping roofline.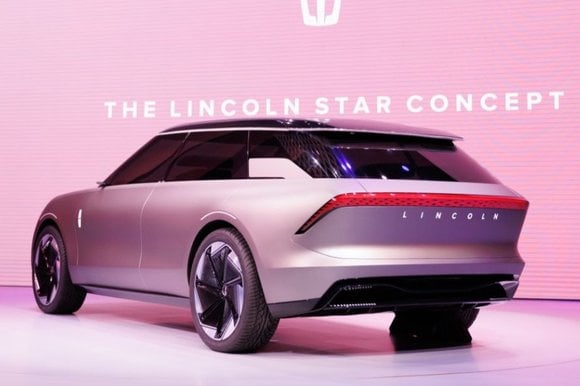 Some of the more outlandish elements on the concept that we don't expect to see on production EVs include suicide doors, a front fascia that slides forward, a front hood that opens vertically, and electrochromic glass on the hood to hide gear. The rear liftgate opens up, while the rear hatch folds down to reveal a lounge seat.
The interior of the Star truly looks toward the future of cars. The dashboard is dominated by a large curved screen that sits right underneath the windshield, while a smaller, secondary screen is incorporated into the center console. The only physical buttons we can see on the inside are gear selector buttons, buttons on the doors, and a rotary control knob. It looks like Lincoln really wants to showcase its luxurious side with a white and maroon color scheme, synthetic leather upholstery, and 3D-printed trim pieces.
The seats, while they look plush, stand out for being able to swivel to face passengers in the back for when the vehicle is operating autonomously. For times when the front seats are facing forward, rear passengers get to interact with screens that are located on the front seat backs. Unlike in modern Lincolns, the Star Concept's rear seats are the place to sit. They have extendable footrests, an integrated champagne fridge with glasses, and storage compartments for small items. To showcase how tech-forward the upcoming electric vehicles will be, the concept has Lincoln Attaché that's a compartment in the rear door for laptop and tablets to wirelessly charge and connect to the onboard Wi-Fi system.
Most of the Star Concept's features and design elements are unlikely to make it to a production vehicle anytime soon. And since this is an early concept, Lincoln didn't provide any information on the powertrain. What the Star Concept does reveal is how Lincoln wants to stick to its guns of having opulent cars with some innovative touches as it aims for EVs to account for half of its global production by 2025.
See the Top EV Deals & Incentives
Pictured: Lincoln Star Concept