Because of the semiconductor chip shortage, we've gotten used to getting some bad news last minute from Ford. Delays, production cuts, missing features, the American automaker hasn't had a lot of good news to share recently. Well, as it turns out, Ford finally has some good news to share for F-150 Lightning owners. The all-electric pickup truck will have more horsepower than originally announced, as well as a higher payload capacity.
When Ford originally announced the Lightning pickup truck, the automaker claimed the dual-motor pickup with the standard battery pack would have 426 horsepower, while models with the extended range pack would make 563 hp. Now, Ford is stating that the trucks actually make 452 hp with the standard battery pack and 580 hp with the extended battery pack. Those are substantial increases for a vehicle that just entered into production.
Ford claims that both versions of the all-electric pickup truck will continue to make 775 pound-feet of torque. Despite the increase in horsepower, the Lightning is still well off of other electric pickup trucks. The GMC Hummer EV Pickup makes up to 1,000 hp, while the Rivian R1T has up to 835 hp. Still, the increases are nice to have and they make the Lightning the most powerful F-150 ever.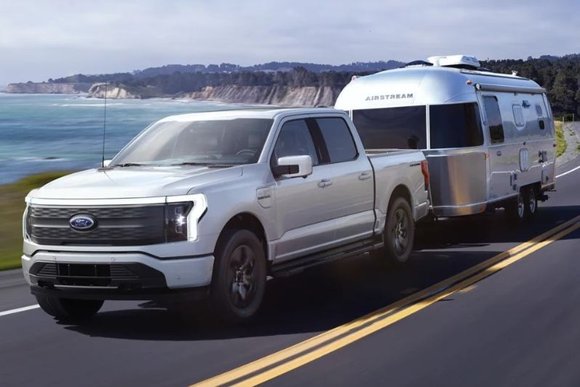 In addition to announcing that the Lightning makes more power than before, the electric pickup also has a higher payload capacity figure than previously announced. While Ford didn't announce which electric pickup trucks offer the most payload capacity, the automaker did state that certain versions of the Lightning can haul 235 pounds more of cargo. The maximum is now capped at 2,235 pounds.
The new horsepower and payload figures follow updated range numbers for the Lightning, which came out earlier this March. Lightning models with the standard battery pack can travel up to 230 miles with the extended range pack bringing up to 320 miles of range. The Platinum trim, which is the heaviest in the lineup, has a range of 300 miles.
Explore F-150 Lightning Prices & Deals
Pictured: 2022 Ford F-150 Lightning