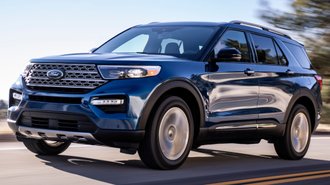 As if announcing the all-electric 2022 Ford F-150 Lightning and getting 44,500 reservations within the first 48 hours wasn't enough for the American automaker, it's already looking toward future electric vehicles. Ford recently announced a major push toward EVs, claiming that it expects electrified vehicles to account for 40% of its total offerings by 2030. To that end, it recently announced that it would be coming out with an all-electric version of the Explorer midsize SUV, while CEO Jim Farley hinted at the possibility of an electric version of the Bronco.
Let's start with what we know. The midsize Explorer, which is America's best-selling SUV will join the Mustang Mach-E, F-150 Lightning, and the E-Transit electric van as part of the automaker's all-electric lineup. Mike Levine, Ford's North American Production Communications Manager, took to Twitter to confirm the upcoming all-electric Explorer.
"Yes, we will fully electrify Explorer as you might expect, given our plan to deliver 40% of our lineup as fully electric vehicles by 2030. We will continue playing to our strengths and electrify our icons in high-volume segments that we dominate today. We'll share details later," said Levine.
Ford didn't provide any official information on what we could expect from an electric Explorer, but coming out with a battery-powered version of one of the most popular SUVs of all time certainly won't hurt Ford's sales plans. Ford sold 226,215 units of the Explorer last year, so coming out with an electric model would certainly help the brand's EV goal. With the Explorer being so popular, we don't see Ford cutting the gasoline models out of the lineup and switching the nameplate to be an all-electric one.
Levine also took to Twitter to share a photo of what appears to be a four-door Bronco with an electric platform. The boxy shape of the vehicle and rear-mounted spare tire holder closely resemble a Bronco. Along with the image, Levine specifically called out rugged SUVs, which all but confirms the Bronco will be available in an all-electric variant.
"There's a new all-wheel drive/rear-wheel drive flexible EV architecture on the way for cargo vehicles, pickups and rugged SUVs!" said Levine in a tweet.
An all-electric Bronco would be another easy choice for Ford. The automaker already confirmed that the rugged SUV would be available in a plug-in hybrid powertrain. Adding an all-electric version would further bolster the rugged SUV's electrified lineup.
Clearly, Ford has focused on electrifying its most iconic nameplates first to rile up some interest in EVs. First, there was the Mustang Mach-E, which was followed by the F-150 Lightning, and now, it looks like an electric Explorer is right around the corner. Electrifying major nameplates is part of Ford's plan to invest $30 billion into electrification efforts over the next five years and become carbon neutral by 2050. To help it reach its goals, Ford recently announced a scalable EV platform that will come with the brand's IonBoost batteries.