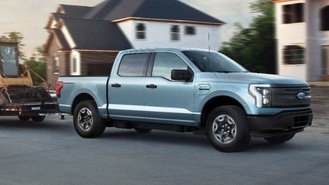 Ford recently passed another milestone with the all-electric F-150 Lightning. In its August 2021 sales report, Ford reported that F-150 Lightning EV reservations crossed the 130,000 mark. That's a staggering figure and a clear look at just how popular the pickup will be when it goes on sale. The large number of reservations, though, brings up questions on how the automaker will be able to deliver the vehicles to consumers.
The American automaker has been having serious issues with production recently. The Mustang Mach-E has been delayed a few times, thousands of F-Series trucks were sitting idly by at parking lots as the automaker waited for semiconductor chips, and Bronco consumers have spotted large quality issues with their SUVs. To get a hold on production issues and a large number of reservations with the Bronco, the automaker has stopped accepting reservations for the SUV. So, we have questions on whether the Lightning will actually arrive on time and the quality of the pickup.
Still, 130,000 reservations is a huge thing for Ford. It provides a clear picture of just how popular electric pickup trucks will be. Some questioned whether consumers would be interested in electric trucks, but that's clearly not a question anymore.
After revealing the Lightning, Ford announced that it would be accepting reservations with a $100 refundable deposit. While the automaker plans to begin delivering the vehicle in Spring 2022, that hasn't stopped over 130,000 people from placing a reservation for the truck. The truck was an immediate hit, as Ford received 44,500 reservations for the electric pickup truck within the first 48 hours of the model's debut. Ford continues to accept reservations for the Lightning on its website.
To accommodate the large amount of interest that Ford has received, a report from Automotive News recently claimed that Ford is looking to increase the Lightning's production target ahead of the trucks' 2022 launch. When Ford unveiled the Lightning, it planned on building roughly 40,000 units of the truck per year by 2024. Now, Ford is planning to up that figure to 80,000 units.
Ford's report also indicated that the automaker's electrified vehicles set a new sales record in August. The automaker sold 8,756 electric cars in August, which is 67.3% more than last year. Ford states that its electric vehicles are bringing new owners to Ford at an impressive rate.