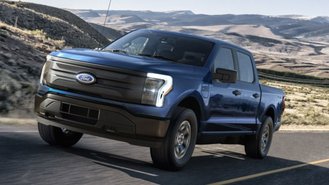 Hot on the heels of unveiling the 2022 Ford F-150 Lightning, the American automaker is ready to show off its work-ready version of the pickup truck. The new F-150 Lightning Pro Work Truck is the option that will carry an MSRP of $39,974 and has been built for commercial use in mind. But, and this is an interesting but, Ford will allow consumers to purchase a Lightning Pro model.
Unsurprisingly, it looks like the Lightning Pro Work Truck will share a lot of the same technical features as the regular Lightning models. Ford will offer the pickup with two battery packs – a standard one with 230 miles of range and an extended version with 300 miles of range. Both options will come with two motors for standard four-wheel drive. With the standard battery pack, the base Lightning Pro Work Truck will be rated at 426 horsepower, while the extended-range version makes up to 563 hp. Pricing for the standard range Lightning Pro starts at just under $40,000 with the extended-range battery pack being priced at $49,974.
Ford's SYNC 4 infotainment system with a 12-inch touchscreen will be standard on the Lightning Pro. The infotainment system will help commercial owners do nifty things like manage range, find charging stations, and interact with various telematics solutions. A few telematics services include allowing people to monitor codes, vehicle utilization, warning lights, and odometer readings. Other helpful items include being able to monitor energy usage, trip history, drive events, and keep track of the pickup on a live map.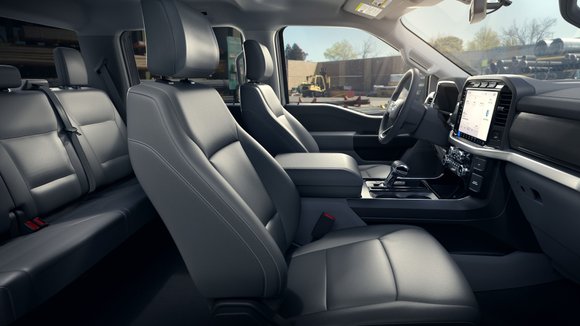 Despite the low starting price tag, the Lightning Pro Work Truck still comes with Co-Pilot360, a 4G LTE modem, a 120/240-volt AC charger, and Pro Power Onboard that pumps out 2.4 -kW of electricity to power tools at the job site. Ford's Pro Power Onboard system that pumps out 9.6-kW of power that can help workers rip up to 30 miles of half-inch plywood on a single charge will be available with the extended-range battery pack.
While some consumers may think that 230 miles of range isn't enough, Ford claims that it analyzed roughly 145 million miles of commercial customer telematics data to ensure the Lightning Pro Work Truck is useful for users. Ford's data found that 95% of commercial customers traveled less than 174 miles per day. So, even the standard-range pickup truck should offer commercial users with plenty of range.
We received some more information on the Lightning Pro Work Truck from a Ford representative. Regular consumers will be able to reserve and buy a Lightning Pro model, but only the model with the standard-range battery pack, not the extended-range battery. The latter is for commercial customers only. Shoppers can reserve a model for $100 with a cap at four models, while commercial customers can register for either Lightning Pro model in unlimited quantities at fleet.ford.com.
As far as numbers go, Ford believes that the Lightning Pro Work Truck will account for roughly the same percentage of regular F-150 commercial sales, which are currently around 20%. For commercial shoppers, the all-electric F-150 Lightning Pro promises to boast lower-up front costs and far less maintenance. We expect it to be a hit, especially since it's one of the only all-electric work trucks on the market. The all-electric F-150 Lightning Pro Work Truck joins the electric E-Transit commercial van.