Things have not gone smoothly for prospective Ford Mustang Mach-E buyers. In March, Ford started to compensate buyers, as deliveries of the electric crossover were behind schedule. Then, further delays hit the Mach-E because of the chip shortage, leaving some consumers waiting for at least 16 weeks for their electric car to arrive. Now, Ford's website states that shoppers are looking at waiting at least 20 weeks for their Mach-E to be delivered.
The last time we heard about the wait time for the Mach-E for new vehicle orders was back in June. At the time, Ford's website stated that consumers were looking at waiting at least 16 weeks for the Select and California Route 1 trims. The Premium trim had a wait time of over 24 weeks, while the GT trim required consumers to wait more than 28 weeks for their electric vehicle. Now, Ford has updated its website with new wait times.
Consumers looking to purchase a Mach-E Select and California Route 1 are looking at waiting at least 20 weeks before their electric crossovers are delivered. The Premium and GT trims have a minimum wait time of 28 weeks. From before, the wait times for the Select, California Route 1, and Premium have all gone up.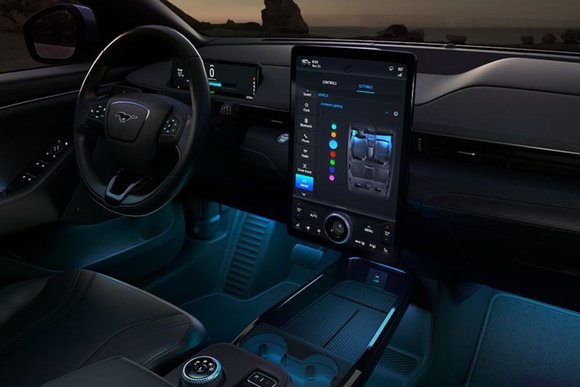 The chip shortage appears to be the major issue with the Mach-E. Earlier this August, a report indicated that Ford was waiting on semiconductor chips to install on the EVs that were already manufactured. To give shoppers some incentive to continue waiting, the automaker provided consumers an additional 250-kWh of complimentary charging through Ford's Blue Oval Charge Network. The automaker also covered the first month's payment of up to $1,000 for roughly 150 buyers who were affected by the delay.
While Ford is offering a $2,000 discount to shoppers that purchase a vehicle that's in stock at a dealership, consumers are going to have a hard time finding a Mach-E on a dealer lot with the extended wait times. If you can find a Mach-E that's priced reasonably at a dealership, a $2,000 discount is a good deal on the electric crossover, as Ford isn't offering the vehicle with any factory rebates.
Ford isn't the only automaker that has forced shoppers to wait a long time to get their vehicles. In August, Tesla pushed the majority of its deliveries to 2022. The Tesla Model 3 Standard Range Plus, Tesla Model Y Long Range, Model S, and Model X all have an estimated delivery time in 2022. Tesla hasn't provided any information on the delay, though we believe it involves the ongoing semiconductor shortage.
Check 2021 Ford Mustang Mach-E Prices
Pictured: 2021 Ford Mustang Mach-E