Ford may have just unveiled the F-150 Lightning and is working on bringing the pickup truck to market next spring, but it's already looking to the future electric vehicles. In an interview with Automotive News, Ford CEO Jim Farley stated that Ford is working on a new full-size platform for future EVs.
Farley told the outlet that Ford is working on developing a full-size pickup truck platform for upcoming electric vehicles. The platform will be built at Ford's Blue Oval City facility in Tennessee. "We've announced this new plant; it's going to be a huge site, and it's going to build a vehicle we do not have today off a brand-new platform — a full-size pickup platform," said Farley. Ford believes the vehicle that will utilize the full-size platform will be sold in "incredibly high volume."
Beyond that, the interview is light on details about the upcoming vehicle, platform, and Blue Oval City factory that's being built.
Saying that Ford is coming out with a full-size truck platform is a little confusing. The F-150 is considered a full-size pickup truck, while larger options like the F-250 and F-350 are classified as heavy-duty trucks. Beyond trucks, it's possible that Farley could be referring to a large SUV that will utilize the truck platform. We don't have a lot to go on, so anything's possible.
What we do know, is that the F-150 Lightning is closely related to the F-150 pickup, which is why Ford was able to bring it to market so quickly after unveiling the vehicle. Based on the little information that Farley provided, it's unclear whether the new platform will be used for a pickup that's roughly the same size as the F-150 Lightning, a larger pickup truck, or a large SUV.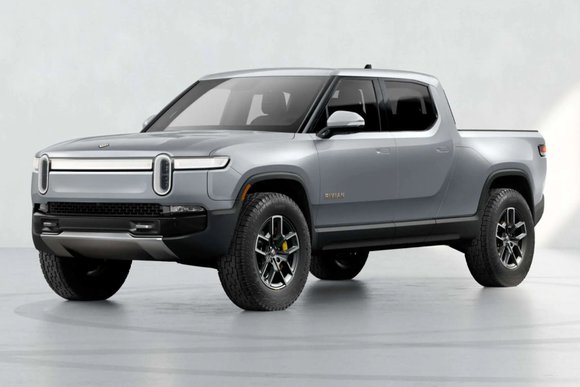 There are only two real competitors to the F-150 Lightning. There's the Rivian R1T, which is somewhere in-between midsize and full-size pickup trucks, and the GMC Hummer EV Pickup, which is a heavy-duty option as it will weigh roughly 9,050 pounds. Coming out with a pickup truck that's smaller than the F-150 Lightning would give Ford a competitor to the R1T, while going larger would ensure it has an option to compete with the Hummer EV Pickup.
When it comes to SUVs, there are only a few large SUVs on the market, including the Tesla Model X, Rivian R1S, and GMC Hummer EV SUV. Ford has a sporty electric SUV with the Mustang Mach-E, but a larger one with seating for up to seven would make it more competitive in the emerging landscape.
While more electric trucks and SUVs would give Ford a major advantage over its competitors and fill a hole in the market, making a new platform takes a lot of time. Furthermore, the new platform will be built at a factory that hasn't been built yet. Ford will begin construction on a new assembly plant at its Blue Oval City campus in 2022. With the facility set to be complete in 2025, we expect the platform and vehicles to come a few years after. A safe bet would be before the end of 2030.
The challenge with making a larger truck than the F-150 Lightning is size. The GMC Hummer EV Pickup is a massive truck with a large price tag, an immense amount of weight, and serious performance. To have something that would be competitive against the Hummer EV Pickup, Ford's option would need to be equally as big and have a lot of batteries to have a meaningful amount of range. If Ford expects consumers to use the electric pickup to tow, it would need even more batteries, as towing has a large effect on range.
Hearing that Ford is interested in coming out with more electric vehicles isn't surprising. The American automaker has garnered so much interest in the F-150 Lighting that it's had to double its production of the pickup truck to 80,000 units per year. The brand's regular F-Series line of trucks has been a leader in the segment for decades, so coming out with new electric trucks seems like a natural progression.
See More of Ford's Electrification Plan
Pictured: 2022 Ford F-150 Lightning (Top), 2022 Rivian R1T (Middle)