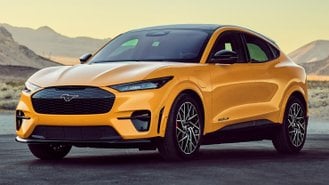 Hot on the heels of getting an official 300-mile range from the EPA for the Ford Mustang Mach-E, the automaker has introduced a new Performance Edition for the electric vehicle. Just like the gas-powered versions of the Mustang, the all-electric Mustang Mach-E will be offered in a high-performance trim under the GT family. Except for the Mustang Mach-E, the trim will be called the GT Performance Edition. While the regular Mustang Mach-E line will boast some serious performance, the GT Performance Edition raises the bar.
The GT Performance Edition comes with the same two-motor setup and 88-kWh Extended Range Battery pack as the regular GT, but has been tuned for more power. Ford claims the Mustang Mach-E GT Performance Edition will produce 480 horsepower and 634 pound-feet of torque. That power will be good enough for a zero-to-60-mph time of 3.5 seconds.
If those figures hold up, that would make the GT Performance Edition the quickest Mustang Mach-E trim on sale. Previously, the GT trim was the quickest and most powerful trim available, putting out the same horsepower, but 600 lb-ft of torque and being able to get to 60 mph in 3.8 seconds.
With a tune that puts performance first, the GT Performance Edition is expected to have a range of 235 miles. That's 15 miles less than the regular GT trim, which is rated at 250 miles.
In addition to packing more power over other Mustang Mach-E trims, the GT Performance Edition will also feature some visual upgrades. The high-performance trim will come with Brembo brakes, 20-inch wheels, Pirelli summer tires, Ford's MagneRide adaptive suspension system, Ford Performance front seats, unique metallic interior stitching, and a bespoke instrument panel with an aluminum finish. The GT Performance Edition will be available in the same exterior colors as the GT trim.
Ford hasn't announced pricing for the GT Performance Edition trim yet, but we certainly expect the trim to cost more than the GT. The GT starts at $61,600 with destination and will be available summer 2021. With the changes, we expect pricing for the GT Performance Edition to start around $65,000. Customers that have reserved a GT trim will be able to add the Performance Edition package when they finalize their order next spring.