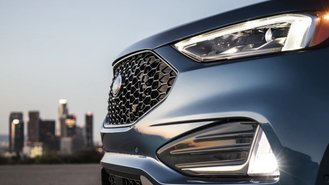 When Ford announced that it would be discontinuing long-standing models like the Fiesta and Focus in Europe, it didn't mince any words. The small vehicles would be replaced with all-electric crossovers that would utilize Volkswagen's MEB platform. With the Fiesta set to be discontinued by 2023 and the Focus going the way of the dodo by 2025, Ford is hard at work on coming out with replacements. Ford recently put out its first teaser of an EV that's expected to come out in March and it sure looks like a boxy crossover.
As Automotive News reports, the teaser that Ford released on Twitter appears to be the automaker's upcoming all-electric crossover that's called the Explorer Sport. It's the first vehicle that will be launched under Ford's new "Adventurous Spirt" marketing and design language, which is the automaker's way of doubling down on its American roots for the European market.
The teaser image that Ford released doesn't provide a good look at the vehicle, as it's covered under a large black tarp. But we can see that the vehicle has an interesting light blue color, rugged body cladding, a relatively tall hood line, and boxy proportions. It looks like it's either a compact or a subcompact SUV based on the height of the vehicle. Based on the image, it looks like the upcoming SUV will be a smaller version of the Everest SUV that Ford sells globally.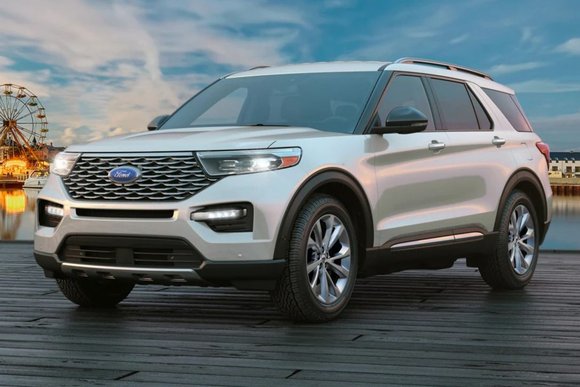 The outlet claims that Ford has licensed the use of Volkswagen's MEB platform for two EVs. The electric cars will be built at Ford's factory in Cologne, Germany, and replace production of the Fiesta. The Explorer Sport that was teased is reportedly expected to sit in between compact and midsize options like the Volkswagen ID.4, Nissan Ariya, and Toyota bZ4X. Based on the teaser, it looks like the upcoming Explorer Sport will have a far more rugged design than then conservative ID.4. Ford stated that the Explorer Sport will have an estimated range of 311 miles on a single charge.
Auto News points out that Ford is looking to revamp its lineup in Europe. The American automaker is attempting to get out of declining or unprofitable segments like the "small, compact, midsize and minivan segments." The Fiesta is classified as a compact car, while the Focus is a compact vehicle. In addition to these two vehicles, Ford is also looking to discontinue the S-max and Galaxy minivans.
Source: Automotive News (Subscription Required)