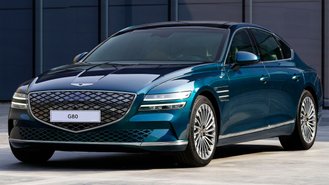 SUVs aren't the only thing Genesis is working on. The South Korean luxury arm just revealed its first electrified production car, the Electrified G80, at the 2021 Shanghai International Auto Show. The Electrified G80, yes that's its real name, looks nearly identical to the current G80 midsize sedan that's on sale. And while the model made its debut in China, the EV will be making its way to the U.S.
Unlike a lot of other brands, Genesis took an interesting route to unveil the Electrified G80. Instead of coming out with a hybrid or plug-in hybrid vehicle, the brand immediately went straight into the all-electric world. So, it's surprising to see the brand come out with a battery-powered electric car. Additionally, Audi, Jaguar, and Ford all came out with electric SUVs recently, but Genesis has decided to electrify its G80 midsize sedan. Strange. But it might be one of those things where we have to wait and see how it turns out.
Genesis didn't provide a lot of information on the Electrified G80. The brand claims the electric sedan will have a range of 265 miles (427 km) on the Korean EV certification system. If that figure holds up in the EPA's testing, it would get close to the Porsche Taycan, Polestar 2, and Tesla Model 3 Standard Range Plus. While specifications on power and battery size aren't available, the Electrified G80 comes with all-wheel drive as standard and can get to 60 mph from a standstill in just 4.9 seconds.
The Electrified G80 comes with a Disconnector Actuator System (DAS) that can connect or disconnect the motor and driveshaft based on different driving conditions. This allows the sedan to go from rear-wheel drive to all-wheel drive to increase efficiency.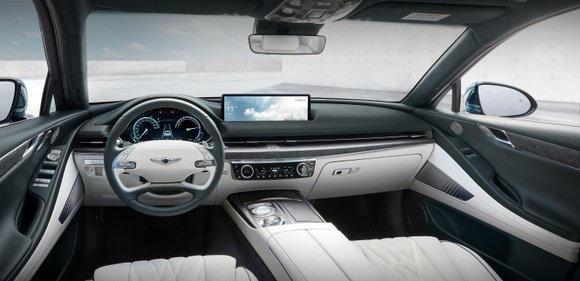 On the charging front, the Electrified G80 will come with Hyundai's rapid-charging system that supports being able to charge on 400- and 800-volt systems. The electric sedan's driving motor and inverter can boost the level of voltage from 400V to 800V without an additional converter. It also provides a more stable charge and the ability to use a 400V charger. When plugged into a 350-kW fast charger, the Electrified G80 can go from a 10% to 80% charge in 22 minutes. The all-electric sedan also has another charging trick up its sleeve. The Electrified G80 supports Vehicle to Load functionality that allows it to power items that can run on 3.6 kW.
In addition to the electrified powertrain, the Electrified G80 will also focus on sustainability. For the electric sedan, Genesis will be using various natural and recycled materials. The leather has natural dyes, there's eco-friendly recycled wood trim, and environment-friendly recycled PET fabrics.
The Electrified G80 may be Genesis' first all-electric vehicle, but it won't be its last, as the brand hopes to come out with more electrified offerings in the future. While Genesis is just getting started, Hyundai has major plans for EVs. The brand recently introduced an all-electric IONIQ brand that will come out with the IONIQ 5 (a midsize SUV), IONIQ 6 (a sedan), and IONIQ 7 (a large SUV). The automaker's decision to introduce an electric sub-brand is part of its strategy to sell 1 million battery-powered vehicles by 2025.
With parent company Hyundai having such large goals for its electrified future, we can't say that we're all that surprised to see Genesis is finally entering the realm of all-electric cars. With current range figures and the high cost of EVs, mainstream electric cars are an easier sell than ones from luxury brands. That's expected to change once high-performance SUVs and pickup trucks come out.