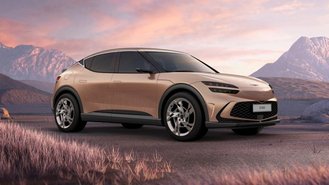 After revealing the Genesis GV60 electric vehicle in its entirety last month, the automaker is finally ready to reveal more of the EV's specs. At the moment, Genesis is only ready to provide information on the vehicles for the Korean market. Specs on U.S. models are expected to come out later. Still, the latest information gives us the best look at the upcoming GV60 yet.
Genesis plans to offer the GV60 with the brand's 77.4-kWh battery pack. The base configuration includes one single electric motor that produces 225 horsepower and 258 pound-feet of torque with rear-wheel drive. A dual-motor layout will be available and will be rated at 314 hp and 446 lb-ft of torque. A high-performance GV60 will be offered, featuring the same dual-motor configuration that's been tuned to produce 429 hp and 446 lb-ft of torque. That vehicle will be able to go from zero to 62 mph in 4 seconds.
The range for U.S. models isn't available yet. GV60s sold in Korea will have a range of up to 280 miles for rear-wheel-drive models. All-wheel drive lowers that figure to 249 miles, while the performance-oriented GV60 will have a range of 229 miles. With the EPA's testing being hard on EVs, we expect the GV60's official U.S. range to be slightly less.
We expect to get more information on the GV60 in the next few months and eagerly await to see how much the vehicle will cost and when deliveries will start. When the GV60 goes on sale, it will compete with the Jaguar I-Pace, Audi e-tron, Volvo XC40 Recharge, Volkswagen ID.4, Ford Mustang Mach-E, Tesla Model Y, Kia Niro EV, Chevrolet Bolt EUV, and Hyundai Kona Electric. The majority of those vehicles have a range of around 250 miles, but the Model Y leads the way forward with a range of 326 miles.
On the performance front, the Model Y Performance can get to 60 mph in 3.5 seconds, which is the same time as the Mustang Mach-E GT Performance. That means the high-performance GV60 will offer slightly less performance than other sporty EVs.
The GV60 is shaping up to be a big deal for Genesis. It will be the second electric car in its lineup next to the Electrified G80 sedan and shares the same platform as the Hyundai Ioniq 5 and Kia EV6. The GV60 will be one of many EVs in Genesis' lineup, as the luxury South Korean brand is looking to become a zero-emission automaker by 2030.
Pictured: Genesis GV60