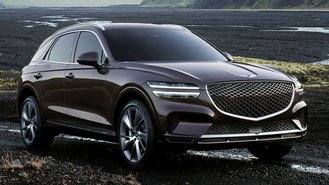 The Genesis GV70 isn't even on sale yet, but the luxury brand is already looking into coming out with an all-electric variant. In an investor presentation, Genesis confirmed that it's looking to introduce the GV70 EV in 2022. With the GV70 EV, Genesis will have two electrified on sales, including the Electrified G80, which is an all-electric version of the G80 sedan.
Beyond confirming that the GV70 EV will come out in 2022, Genesis hasn't provided any information on the electric SUV. We expect the electric SUV to go on sale late in 2022 as a 2023 model year. Genesis hasn't confirmed all of the information on the electrified G80 yet, so we don't expect to get specifications on the GV70 EV any time soon. Based on the electrified G80, we think the GV70 EV will be nearly identical to the gasoline-powered compact SUV.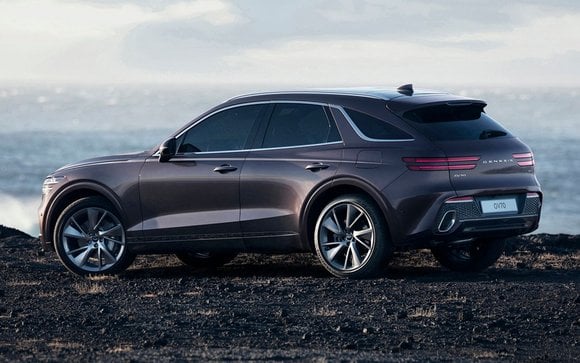 With Genesis set to introduce its second all-electric vehicle, we expect the luxury brand to utilize similar powertrains and batteries from Hyundai's IONIQ sub-brand. All in all, Hyundai plans to have 10 electrified models on sale in 2022. The vehicles include hybrid versions of the Elantra, Sonata, Tucson, and Santa Fe; plug-in hybrid variants of the Tucson and Santa Fe; all-electric versions of the Kona, IONIQ 5, and IONIQ 6; as well as the Nexo fuel-cell vehicle. With Hyundai investing heavily into electrified powertrains, we think the South Korean brand will share some of the same electric motors and batteries throughout its entire electrified lineup, though we expect the Genesis models to have extra performance and range.
There aren't a lot of options in the all-electric, upscale segment. Consumers can currently purchase the Audi e-tron, Jaguar I-Pace, Tesla Model Y, Tesla Model X, and Ford Mustang Mach-E. The upcoming GV70 EV will bring some much-needed competition to the small class. Just like with Genesis' other vehicles, we expect the GV70 EV to bring a lot of value to a segment that isn't known for it.
Explore the current Genesis lineup »
Pictured: 2022 Genesis GV70 gasoline version