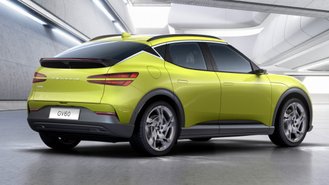 Genesis recently unveiled the first all-electric SUV in its lineup with the GV60, but it's already looking toward a future where EVs play a large role in its lineup. The South Korean luxury brand recently announced that all of its new vehicles starting from 2025 will be all-electric. Additionally, Genesis has plans to become carbon-neutral by 2035.
While Genesis will be going all-in on EVs, the complete phase-out won't happen in 2025. Instead, Genesis will become emission-free by 2030. So, consumers will be able to purchase one of the automaker's gasoline-powered luxury vehicles before then. After that, electric vehicles are the only new ones consumers will be able to purchase off the showroom floor at a Genesis dealership.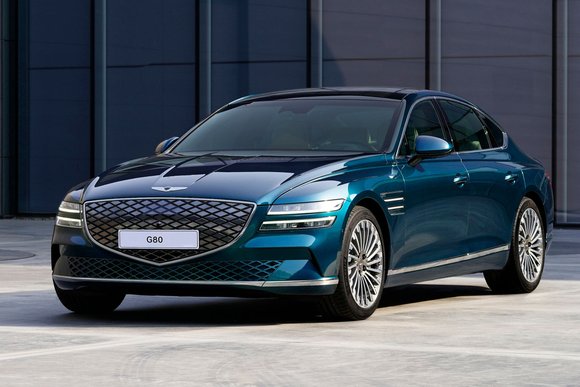 These are large ambitions for an automaker that only has two electric cars, but Genesis plans to have a well-stocked lineup of eight EVs. With all of those options, the automaker plans to sell 400,000 electric cars a year by 2030. Genesis provided a teaser image of the upcoming electric lineup with EVs that will include all sorts of body styles. We spot a few SUVs and what appears to be a sporty coupe. All of the vehicles have the automaker's unique headlight design.
These plans are consistent with the ones that other automakers have announced, though it's on a much quicker timeline. Audi will stop producing vehicles with an internal combustion engine by 2033, Volkswagen plans to discontinue gas engines in Europe by 2035, and General Motors will stop selling new vehicles with gas and diesel engines by 2035. Becoming carbon-neutral is also a goal for Mazda, Nissan, and Mitsubishi, which plan on achieving the goal by 2050. GM will reach that goal by 2040.
So, on that level, Genesis' plans are on par with others. Where it falls behind is when it comes to the number of EVs. Mercedes wants to have 10 EVs in its lineup by 2022, Audi will have 20 EVs on sale by 2025, GM will have 20 EVs on sale in North America by 2025, Hyundai plans to have 23 EVs on sale globally by 2025, and Kia will have 11 EVs in production by 2026. Genesis planning to have eight electric cars sounds like a more reasonable goal, though its timeline is shorter than a lot of other automakers'.