Following last year's launch of the GMC Hummer EV pickup truck, General Motors has just unveiled the SUV version aptly called the Hummer EV SUV. The SUV body style won't go on sale until 2023 as a 2024 model, but there's still a lot to be excited about. When we heard that GM was reviving the Hummer name with rugged EVs, this is exactly what we were envisioning.
Unsurprisingly, the GMC Hummer EV SUV and pickup truck share the same overall design and larger-than-life styling. While the two electric vehicles look similar, there are a few differences between the two models. The SUV's wheelbase is roughly nine inches shorter than the pickup's, while the body is about 20 inches shorter in length. For consumers that plan to spend a lot of time driving on public roads, the SUV promises to be far easier to maneuver than the pickup truck.
Because of its smaller size, the GMC Hummer EV SUV has better breakover and departure angles than the pickup truck. Additionally, if you opt for four-wheel steering, the SUV has a tighter turning circle of just 35.4 cubic feet. These two things should make it easier to drive and more capable on a trail, as well.
Speaking of off-roading, the SUV boasts up to 16 inches of ground clearance, more than 24 inches of water fording capability, and 13 inches of suspension travel. With the SUV's electric powertrain and suspension setup, the vehicle can scale 18-inch verticals and climb 60% grades. GMC's CrabWalk system, adaptive air suspension, Extract Mode, 22-inch wheels, 35-inch all-terrain tires, and e4WD with torque are all available. The optional Extreme Off-Road Package bolsters the GMC Hummer EV SUV's off-roading capability with unique 18-inch wheels, 35-inch MT tires, heavy-duty ball-spline half shafts, rear virtual lockers, a front eLocker, a multi-camera system, and underbody armor.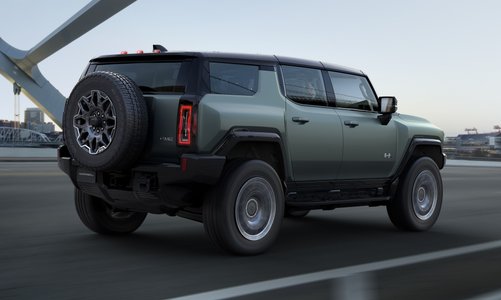 Now, onto the SUV's electric powertrain. The EV comes with a two-motor, 16-module battery layout as standard that boasts up to 624 horsepower, 7,400 pound-feet of torque (that figure involves some messy math), and roughly 250 miles of range. A three-motor layout is available, bringing up to 830 horsepower, 11,500 pound-feet of torque, and 20 battery modules. That configuration is expected to have over 300 miles of range. The most powerful version of the GMC Hummer EV SUV will be able to get to 60 mph in about 3.5 seconds.
On the inside, the SUV offers 36 cubic feet of cargo space behind the rear seats. Folding the rear seats down results in up to 81.8 cubic feet of cargo space. The SUV also has a hidden storage space underneath the floor and another storage compartment that's integrated into the side of the cargo area for extra cargo storage.
Beyond size, there are a few other things that separate the SUV from the pickup. The pickup truck has up to 350 miles of range, up to 1,000 horsepower, and 11,500 pound-feet of torque. With extra power, the pickup is quicker to 60 mph than the SUV, being able to complete the run in 3 seconds. Both vehicles will come with GMC's Infinity Roof system that includes removable panels, GM's hands-free Super Cruise system, 13.4-inch infotainment screen, 12.3-inch digital instrument cluster, and digital key. Compared to the Hummer SUVs of old, the 2024 GMC Hummer EV SUV is larger, far more capable, more high tech, more modern, and more capable off-road.
Pricing for the GMC Hummer EV SUV starts at $79,995 (prices don't include destination) and top out at $110,595 for the Edition 1 with the available Extreme Off-Road Package. The latter will be available early 2023, while more affordable models will go on sale in Spring 2024. That pricing lines up well compared to the pickup truck, which ranges from $79,995 to $112,595.
With its specs, the upcoming GMC Hummer EV SUV certainly looks like it will be competitive against its rivals. The only real rival that we see even coming close to the SUV is the Rivian R1S. That SUV will have a range of roughly 400 miles, up to 754 hp, and a zero-to-60 mph time of 3 seconds. Additionally, the SUV will have up to 14.5 inches of ground clearance, an available third row of seats, be able to ford through 36 inches of water, crawl at a 100% grade, and have a quad-motor layout. The R1S is going to be far more affordable, though, carrying a starting price of $70,000.