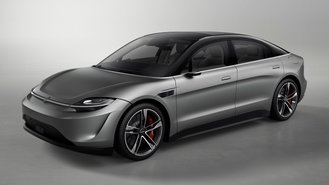 We've seen some pretty exciting electric concepts from Sony recently. The Vision-S EV and Vision-S 02 look to be close to being production-ready and are packed with high-tech features. After years of dancing around the idea of producing electric vehicles, Sony is finally getting serious about selling EVs, but is looking to get help from Honda. The two Japanese companies have signed a memorandum of understanding to form a new company that will focus on designing and selling EVs together.
The unnamed company is expected to come to fruition this year and the first EV from the brand is slated to arrive in 2025. Honda will be in charge of manufacturing the vehicle, while Sony will develop a mobility service platform. The partnership is a good one, as Honda will provide the know-how and capability to build the EVs, while Sony will bring the tech, which includes things like sensing, telecommunication, imaging, and entertainment.
"Sony's Purpose is to 'fill the world with emotion through the power of creativity and technology,'" said Sony CEO Kenichiro Yoshida. "Through this alliance with Honda, which has accumulated extensive global experience and achievements in the automobile industry over many years and continues to make revolutionary advancements in this field, we intend to build on our vision to 'make the mobility space an emotional one,' and contribute to the evolution of mobility centered around safety, entertainment, and adaptability."
Honda currently has lofty goals electrification goals. The Japanese automaker wants 100% of its vehicle sales to come from battery-electric and fuel-cell electric vehicles by 2040. To hit this goal, future all-electric Honda's will utilize batteries from General Motors. While Honda doesn't have any EVs on sale in the U.S., it sells the Honda E globally and is planning to come out with EVs under the Honda and Acura brands as early as 2024.
From Sony's side of things, the decision to partner with Honda isn't surprising. While the Vision-S EV and Vision-S 02 looked like they were ready for production, mass manufacturing EVs without any knowledge, equipment, or components would require far too large of an investment. Entering into a partnership with Honda is a far easier and more affordable way to bring its tech to market. Sony had previously announced a new Sony Mobility company to explore the "commercial launch of Sony's EV," but going at it with a partner makes a lot more sense.
Check Out the Best EV Deals & Incentives
Pictured: Sony Vision-S Concept