Hyundai's made quite a few announcements over the past year that have laid out its plans to focus on electrified vehicles in the future. The South Korean automaker has now announced that it will be introducing a new electric-global modular platform, or E-GMP for short, that will play a large role in the automaker's plans for coming out with 23 all-electric vehicles across all of its brands, including Hyundai, Kia, and Genesis, by 2025.
Having a dedicated electric-vehicle platform will make things easier for Hyundai as it moves toward an electric-heavy future. It greatly simplifies the manufacturing process for brands. Modifying an existing internal-combustion-engine platform can be costly and, depending on the modifications and the existing platform's flexibility, can only be used on vehicles that are similar in size. A dedicated platform gives automakers more flexibility.
According to Hyundai, benefits of the new E-GMP platform include "increased development flexibility, powerful driving performance, increased driving range, strengthened safety features, and more interior space for occupants and luggage." Thanks to the E-GMP platform's modularity, Hyundai, and other automakers that share components with the brand, will be able to use it for sedans, CUVs, and SUVs.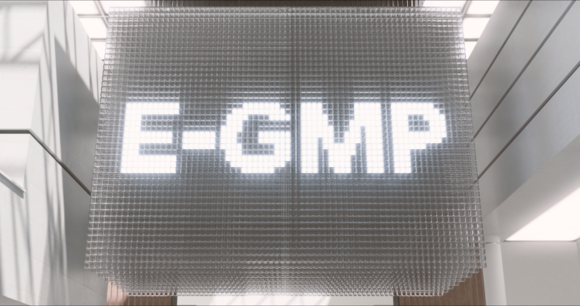 Beyond being able to be used to underpin a variety of body styles, the rear-wheel-drive E-GMP platform will boast some impressive specs. EVs built on the platform will have a range of up to 310 miles on a single charge, but that's on the WLTP test, which is more lenient than the EPA's testing. Thanks to 800-volt charging capability that supports up to 350-kW charging, the platform will be able to get 80% of its charge back in just 18 minutes. That comes down to roughly 62 miles every five minutes. A bidirectional vehicle-to-load system will also be used to charge another EV, while an Integrated Charging Control Unit will allow Hyundai's EVs to send up to 3.5 kW of power to external accessories that run on 110 or 220 volts.
Since the new platform is rear-wheel drive, Hyundai claims it will be making a high-performance model with it. That vehicle will have around 600 horsepower, a top speed of 161 mph, and a zero-to-62 mph time of under 3.5 seconds.
While modular platforms for EVs aren't a new thing, Hyundai's will have something no other production car will: an integrated drive axle. The automaker claims this will be a first in the world of cars. The innovation allows the wheel bearings to be combined with the drive shaft to send power to the driven wheels. This is combined with a five-link rear suspension system and is meant to improve ride quality and handing.
Hyundai also announced a new power electric (PE) system. It incorporates an electric motor, inverter, and transmission into a single, compact unit. Hyundai claims the electric motor itself is smaller than ones found on comparable EVs and has an advantage when it comes to weight and space. By using silicon carbide semiconductors in the motor, Hyundai states the drive unit is 2% to 3% more efficient, giving the vehicle a 5% bump in range.
A variety of other automakers use or have plans to use dedicated platforms for their respective EVs, including Geely, Mercedes-Benz, General Motors, Lexus, Honda, Volkswagen, and BMW. Hyundai's E-GMP platform is unique because of its charging capabilities, silicon carbide semiconductors, PE system, and integrated drive axle.
The first vehicle to feature Hyundai's new E-GMP platform will be the Ioniq 5 that will be introduced in 2021. A new electric vehicle from Kia with the E-GMP platform will also come out next year.