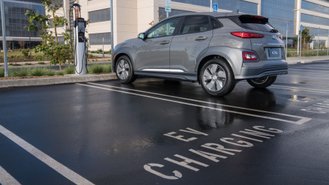 Earlier this August, Hyundai decided to spin off its IONIQ line of vehicles into a sub-brand for its electric vehicles. It looks like Hyundai won't be waiting to add new models to its IONIQ sub-brand, as it has plans to offer a total of 10 electrified vehicles in its lineup by 2022, two of which will be all-new EVs that fit into the new sub-brand. The South Korean automaker recently announced its new plans to have a lineup that includes seven electrified SUVs and three cars. Electrified vehicles include hybrid, plug-in hybrids, and pure EVs.
Starting with the cars, there's the Elantra Hybrid and the Sonata Hybrid. The other car will be the new IONIQ 6. Hyundai hasn't released any information on the all-electric IONIQ 6, but we expect it to look similar to the Prophecy concept that was unveiled earlier this year. From the graphic that Hyundai put out on its lineup of electrified vehicles, the IONIQ 6 looks like it will be a long, sleek sedan.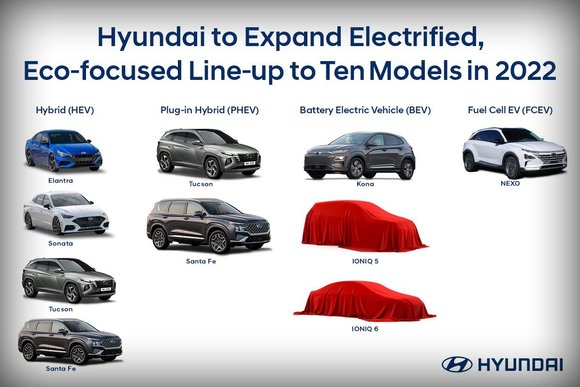 Then, there are the SUVs. The Tucson and Santa Fe will be available with both hybrid and plug-in hybrid variants. Hyundai will continue to sell the fuel-cell Nexo and the all-electric Kona. A new all-electric IONIQ 5, which is expected to be a midsize crossover, will be the other new EV that's added to the lineup by 2022. That SUV should borrow design elements from Hyundai's 45 concept.
Hyundai's push for more electrified vehicles is one of the more robust ones in the industry. The only automaker that has a more impressive goal is General Motors, which plans to introduce 12 new electric cars for a total of 20 global models by 2023. Nissan's still working on its second mainstream EV, the Ariya, Honda has plans for two EVs that will be manufactured with assistance from GM, Kia wants to have seven new electric cars by 2027, and Subaru plans to electrify all of its models by 2030.
One of the main reasons for the push for more electrified vehicles could have a lot to do with California's recent ban to sell new gas-powered passenger vehicles in the state by 2035. By ensuring it has a total of 10 electric vehicles on sale by 2022, including three all-electric options, Hyundai is putting itself in a good position in case other states decide to follow California's lead.