The fully redesigned 2022 Jeep Grand Cherokee marks the first time the Grand Cherokee nameplate has been offered with an electrified powertrain. Consumers interested in purchasing the Grand Cherokee 4xe with its efficient plug-in hybrid are looking at paying a hefty amount over a Grand Cherokee without an electric motor. Jeep announced pricing for the Grand Cherokee 4xe and it's $20,310 more than a base Grand Cherokee.
Pricing for the Cherokee 4xe starts at $59,495 with destination. A Grand Cherokee with rear-wheel drive and the base 3.6-liter V6 will run you $39,185. Since the Cherokee 4xe comes with four-wheel drive as standard, comparing a gas-only Grand Cherokee with 4WD equates to a difference of $18,310. In an apples-to-apples comparison of 4xe Trailhawk versus Trailhawk, the Grand Cherokee 4xe is $11,210 more. Still a hefty sum.
The major cause of the massive difference in pricing boils down to the electrified powertrain. The Grand Cherokee 4xe comes with a turbocharged 2.0-liter four-cylinder engine that's paired with two electric motors. The combined output is rated at 375 horsepower and 470 pound-feet of torque, which easily beats the 3.6-liter V6 (293 hp and 260 lb-ft of torque) and even the available 5.7-liter V8 (357 hp and 390 lb-ft of torque). In addition to the extra power, the Grand Cherokee 4xe can travel up to 25 miles on electricity.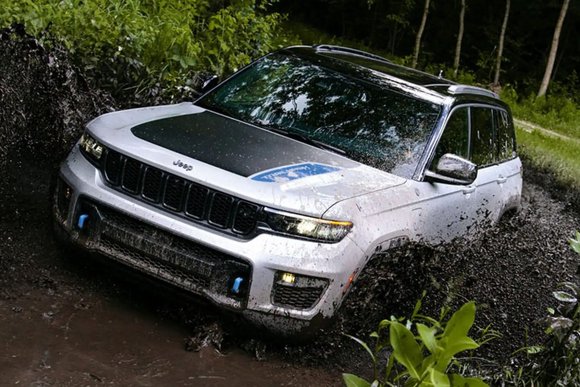 Unlike the regular Grand Cherokee that comes with rear-wheel drive, the Grand Cherokee 4xe is only available with 4WD. Adding 4WD to the Grand Cherokee costs an extra $2,000. Additionally, the PHEV model comes packed to the gills with features like a 10.25-inch digital instrument cluster, a 10.1-inch touchscreen, leather upholstery, adaptive cruise control, an Alpine audio system, a dual-pane sunroof, and a power liftgate. To get a similar list of features with the regular Grand Cherokee, you're looking at the Summit trim, which costs $61,160 with 4WD and the V6.
The Grand Cherokee 4xe certainly seems like an SUV that will appeal to a small group of buyers with its sub-$60,000 price tag and $76,095 starting price for the range-topping Summit Reserve trim. The Grand Cherokee 4xe is expected to be eligible for a portion of the federal EV tax credit, but it won't be eligible for California's Clean Vehicle Rebate. Jeep expects the PHEV to arrive at dealerships this spring.
Check Jeep Grand Cherokee Prices Near You
Pictured: 2022 Jeep Grand Cherokee 4xe