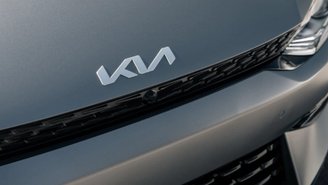 The all-new Kia EV6 may just be arriving at dealerships, but the South Korean automaker is already looking to add more electric vehicles to its lineup. A lot more. Kia recently announced an updated roadmap for the rest of the decade, which now includes plans to offer 14 all-electric vehicles by 2027. Two of the upcoming all-electric vehicles will be pickup trucks.
There's not a lot of information on the electric pickups, except that one will be a dedicated model and the other a "strategic model" for emerging markets. The former sounds like Kia will utilize Hyundai's E-GMP architecture, while the other won't come to the U.S.
Since Kia doesn't have a pickup truck on sale, it will be interesting to see what Kia comes up with. The automaker could come out with an electrified version of the Hyundai Santa Cruz or a larger version to compete against the Ford F-150 Lightning, upcoming Chevrolet Silverado 1500 EV, and Rivian R1T. We think an electric pickup that's smaller than current full-size options is more realistic.
While it's exciting to hear that Kia will come out with a few electric pickups, production of the one that will be sold in the U.S. won't commence until 2024. The next EV Kia plans to introduce is the EV9. A concept version of the all-electric midsize SUV was unveiled at the 2021 Los Angeles Auto Show and is approximately the same size as the Telluride. The EV9 will arrive with 300 miles of range and offer 350-kW charging to get 80% of its battery back in just 30 minutes. The EV9 is expected to be introduced in 2023 and will be the first vehicle to come with the automaker's AutoMode advanced driver-assist system.
The introduction of more EVs will help Kia increase the number of vehicles the automaker sells annually. The South Korean automaker is aiming to sell 4 million vehicles a year by 2030, which is 27% more than its target for 2022. By the end of the decade, Kia hopes that EVs account for 1.2 million vehicles sold. "Eco-friendly vehicles," which refers to vehicles with some kind of electrification, will account for 52% of Kia's total sales by 2030.
Check Out the Best Current EV Deals
Pictured: 2022 Kia EV6 (Top), 2024 Chevrolet Silverado EV (Middle)