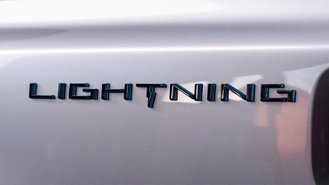 EVs are becoming the next frontier for trucks, as numerous automakers have plans to come out with all-electric pickups in the next few years. Ford is hard at work on coming out with a battery-powered F-150 Electric that will be called the Lightning. The American automaker officially confirmed the name in a new press release.
The Lightning name should be familiar for Ford fans, as the automaker used it in past performance vehicles. The first Ford F-150 Lightning came out in 1993 and was powered by a 5.8-liter V8 making 240 horsepower. Ford introduced another Lightning model that was on sale from 1999 to 2004 that utilized a supercharged 5.4-liter V8 making 360 horsepower. While these figures pale in comparison to current pickup trucks, they were a lot for a performance-oriented pickup back then.
Reviving the Lightning name may anger some diehard fans, but you have to admit, it's a fitting name for an electric pickup truck. It's a similar issue with the Mustang Mach-E. Ford is attempting to stir up some interest in its electrified vehicles by choosing iconic names. While it has zero bearing on how the vehicle performs, some people would prefer to leave historic names alone. Despite the name, we expect the F-150 Lightning to be well-received by consumers, as it's an electrified version of the best-selling vehicle in the U.S.
Ford isn't ready to provide a lot of information on the F-150 Lightning yet, but CEO Jim Farley claims the electric pickup truck will have quicker acceleration than the old F-150 Lightnings, come with over-the-air update compatibility, and be able to power homes. In Ford's short teaser video above, we can see that the upcoming pickup truck will have some impressive lighting with an LED element that runs the entire width of the hood and connects the headlights.
What we do know, is that Ford will officially unveil the F-150 Lightning on May 19. The pickup truck's debut will be broadcast across more than 30 different physical and digital destinations, as well as 18 "out-of-home locations" that include Las Vegas Boulevard and Times Square in New York City. In a previous statement, Ford has already said that the new F-150 EV will be cheaper to own than the regular F-150.
An all-electric pickup truck is a huge step for Ford, but one can't help but wonder why it's waited this long to introduce the model. Competitors like Rivian, General Motors, and Tesla have already unveiled their electric pickup trucks in their entirety. Rivian is beating everyone to the punch with the R1T, which will be delivered to consumers starting this June.
It's a similar case with Ford's other all-electric vehicle, the Mustang Mach-E, which was late to the party compared to options from Tesla, Chevrolet, Audi, Jaguar, Hyundai, and Kia. Despite being late, Ford's decision to introduce the F-150 Lightning comes at a time when states are starting to ban the sale of new gasoline-powered cars. Coming out with electrified versions of popular vehicles is a great way for Ford to cement its position as a brand with a strong electrified lineup in the future.
The electric F-150 Lightning is expected to arrive in 2022 and will compete against the Tesla Cybertruck, Rivian R1T, Bollinger B2, Lordstown Endurance, GMC Hummer EV, and Chevrolet Silverado EV.