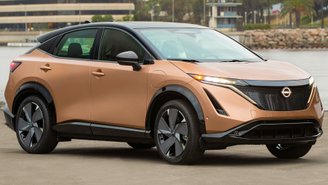 The all-electric, high-tech Nissan Ariya was supposed to go on sale in the U.S. in 2021, but the automaker has announced that the crossover will be delayed because of the chip shortage and COVID-19 pandemic. An unnamed senior executive at Nissan confirmed the news to Reuters.
Originally, the Ariya was supposed to go on sale in Japan starting in the middle of 2021, but the rollout of the vehicle in the country has been pushed to "this winter," executive vice president Asako Hoshino told reporters. Since automakers tend to sell new vehicles in their home country before expanding to other markets, we can expect the Ariya's U.S. arrival to be pushed back by a few months. "Sales in the United States and Europe will typically come around two months later," Hoshino said.
Reuters didn't provide a timeline for the Ariya, but we're certain the electric SUV will go on sale in the U.S. in 2022. Consumers will be able to reserve a model later this year.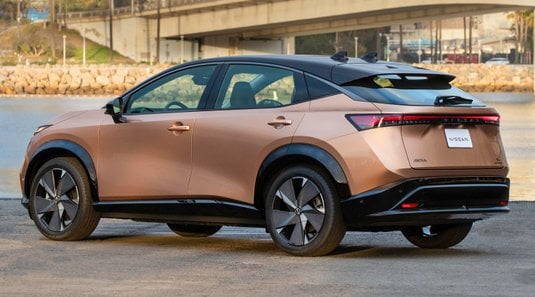 So far, we know that the upcoming Ariya will help Nissan expand its lineup of electric vehicles. The SUV will also usher in a new era of design for the automaker with sharp, angular lines. Nissan is expected to offer two different battery sizes with the SUV – a 63-kWh pack and a larger 87-kWh pack. Both front- and all-wheel drive will be available. The Ariya is expected to have a range of up to 300 miles, which would be better than the Leaf's maximum range of 226 miles.
Nissan has been hit hard by the chip shortage. Earlier this year, the Japanese automaker claimed that it would manufacture half a million fewer vehicles in 2021 because of the chip shortage, as the automaker had to shut down and idle a few of its factories. The Nissan Altima, Leaf, Maxima, Murano, and Rogue were affected by the lulls in production.
In general, nearly every automaker has been affected by the chip shortage. Audi, Porsche, Volkswagen, Chevrolet, Cadillac, GMC, Ford, Hyundai, Jaguar, Land Rover, Jeep, Dodge, Mercedes-Benz, BMW, Mitsubishi, and Subaru have all had to stop or cut production of a few models because of the shortage.
We don't expect the Ariya's delay to have a huge impact on Nissan. Pushing things back by a few months for an SUV as important as the Ariya is better than having a product that's missing some features. For consumers that aren't interested in waiting for the Ariya, they can purchase the Volvo XC40 Recharge, Tesla Model Y, Volkswagen ID.4, Ford Mustang Mach-E, Kia Niro EV, Chevrolet Bolt EUV, and Hyundai Kona Electric.