The Nissan Leaf is seen as the grandfather of the electric segment. Nissan was one of the first automakers on the scene with the Leaf back in 2010 when electric vehicles were seen as futuristic tech. Now, electric cars are far more mainstream and the Leaf has failed to keep up with the competition. With the Leaf struggling against newer, more capable EVs from Kia, Toyota, Subaru, Ford, Chevrolet, and Hyundai, Nissan is reportedly looking to replace the model with a new offering.
Nissan is looking to have 15 all-electric vehicles on sale globally by 2030. Unfortunately, it doesn't look like the Leaf will have a role in that goal. A new report by Automotive News claims that the Leaf, which was one of the first all-electric cars to go on sale when it launched in 2010, will be replaced with a new electric car. The new EV will be "more tuned to the needs of the modern EV buyer," claims the outlet citing unnamed sources. Production of the electric hatchback will come to an end by the middle of the decade.
As for what vehicle could replace the Leaf, Auto News claims that a crossover with a coupe-like design is a possibility. Nissan showcased the Chill-Out concept last year, which, at the time, was thought to be a replacement for the Leaf. The version of the Chill-Out that Nissan unveiled certainly looked like a concept car, though the overall design and footprint of the vehicle, which looked like a coupe-inspired SUV, could be an inspiration for a production vehicle.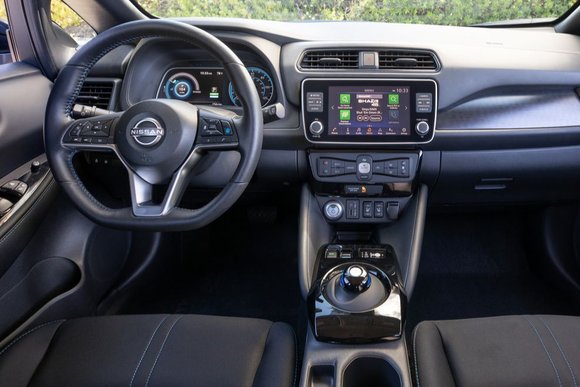 If Nissan does discontinue the Leaf, it comes after a recent facelift. For the 2023 model year, the Leaf arrives with an updated exterior design and an updated lineup. Nissan didn't touch the Leaf's powertrains, so the Leaf continues to come with a 147-horsepower electric motor and a 40-kWh battery pack as standard. The SV Plus comes with a 214-hp motor and a 62-kWh battery pack. The Leaf can travel between 149 miles and 215 miles.
While Nissan was one of the first to bring an EV to market, the automaker failed to give the Leaf any meaningful updates to grow. Roughly 18 months after the Leaf launched, Tesla came out with the Model S. After that, it was like the Leaf was playing catchup instead of being the cutting-edge vehicle that it could have been. Now, with the all-new Ariya set to arrive before the end of the year, there's no reason to keep the Leaf around. In the second quarter of 2022, Nissan sold just 3,251 Leafs. Tesla, which is the most popular EV brand in the U.S. delivered 238,533 units of the Model 3 and Model Y combined.