Nissan was one of the first automakers to offer a mass electric vehicle with the Leaf. Since then, it's fallen behind rivals that offer EVs with more range, better performance, and more tech than the Leaf. Nissan is looking to become a leader in the electric segment again with a $17.59 billion investment over a five-year period to accelerate its electric-vehicle plan. The large investment will see Nissan launch 23 electrified cars by 2030 as it hopes to catch up to Tesla and its Japanese rival Toyota.
Out of the 23 electrified vehicles Nissan plans to come out with by 2030, 15 of them will be all-electric. Twenty of the electrified vehicles will come out in the next five years, a short timeline, but Nissan is looking for electric cars to account for 40% of its sales in the U.S. by 2030. The plan, which is aptly called Nissan Ambition 2030, is quite ambitious.
If coming out with that many electric vehicles doesn't sound like enough work, Nissan is also looking into coming out with solid-state batteries by 2028. A pilot production facility for the solid-state batteries is expected to go live in Yokohama as early as 2024. Additionally, Nissan wants to increase the production of its battery capacity to 52 GWh by 2026 and 130 GWh by 2030. The automaker will need some help from battery partners to reach this goal.
Making bold claims about coming out with a large number of electric cars is one thing, but Nissan showcased four concept vehicles to prove that it's serious. The first concept is the Surf-Out — a small pickup truck with a futuristic look. Even for a concept, the Surf-Out is out there with a smiley face and hearts instead of taillights and a bare cabin with a massive screen on the dashboard. The Surf-Out has an e-4ORCE all-wheel-drive configuration and an onboard generator for beach parties.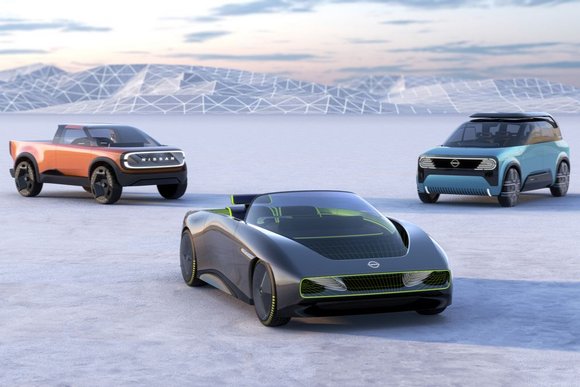 Then, there's the Hang-Out concept that's a small SUV. With its boxy design, the Hang-Out almost looks like it's a successor to the Cube. The Hang-Out is all about the interior, coming with flexible seating that can be rotated and configured in different ways, like creating a movie theater. The tall roofline creates a spacious area for everyone inside, while the e-4ORCE all-wheel-drive setup should help it tackle inclement weather.
Out of all of the concepts Nissan unveiled, the Chill-Out appears to be the closest one to production, but it's still overly futuristic. Nissan claims the concept rides on its CMF-EV platform and looks to be smaller than the Ariya. As with the other concepts, a large screen dominates the dashboard, while the latter can also be used as a footrest.
Lastly, Nissan also unveiled the Max-Out concept. By far, this concept is the most futuristic one of the bunch. It's a low, aggressive convertible that apparently focuses on performance. Despite being a topless electric car, Nissan claims the concept has a low center of gravity and is lightweight. As with the other concepts, the two seats are configurable and can even fold flat into the floor to make the cabin more versatile.
It's nice to hear that Nissan is working on electric cars, because it's really fallen behind competitors like Tesla, Chevrolet, Ford, Audi, Hyundai, and Kia. For a brand that practically started the electric craze, we've been expecting something like this from Nissan for some time. The concepts look over the top and are unlikely to make it to production in any capacity beyond design. Still, it's nice to see Nissan aiming high again.
Explore Nissan's Current Lineup
Pictured: Nissan Chill-Out (Top), Nissan Surf-Out, Nissan Max-Out, Nissan Hang-Out (Middle: Left to Right)