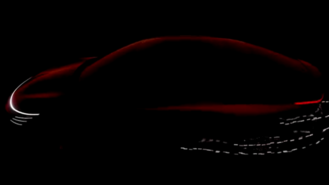 Last November, Nissan dropped the announcement that it plans to launch 23 electric vehicles by 2030. Since then, the Japanese automaker has been quiet on the electric front. Until now. Nissan dropped a few teasers on two upcoming EVs that will enter into production in 2025. One EV will have a Nissan badge, while the other will be branded as an Infiniti. To build these two models, Nissan will invest $500 million into its Canton Vehicle Assembly Plant in Mississippi.
Before we dive deeper into Nissan's investment and what it means for the automaker, here's what we know about the upcoming electric cars. The video focuses on the front end of the vehicles, highlighting their lighting. Nissan's EV has a full-width light bar that follows the contour of the hood, while the end of the grille has three vertical lighting elements. The Infiniti-badged electric car has more dramatic lighting with multiple vertical lighting segments that run the full width of the car.
From what we can see at the back, both appear to be sedans with fastback rear ends, matching the design of many luxury sedans on the market today. Both electric vehicles have full-width taillights, with the Infiniti having triangular elements.
Nissan hasn't named the vehicles yet or provided details about the EVs' specifications. We have to say that we're really excited to see new electric vehicles from Nissan and Infiniti, especially since they come at a time when automakers are coming out with electric SUVs.
The investment into the Canton factory will turn the facility into a "center for EV manufacturing and technology," claims Nissan. The $500 million investment will also bring a new battery pack assembly location for the automaker, so we could see more electric cars be produced at the plant in the future. The two electric cars will be built on a new line at the factory that currently builds the Nissan Altima, Titan, and Frontier. Annual production for the plant currently sits at 410,000 vehicles.
After coming out with the all-electric Leaf, Nissan fell behind competitors like General Motors, Ford, and Tesla, which capitalized on the growing segment by coming out with EVs with an impressive amount of range. Nissan looks to change that with a $17.59 billion investment into accelerating its EV plan over five years. The Japanese automaker aims to launch 23 electric cars by 2030.
Pictured: Nissan EV Teaser (Top), Infiniti EV Teaser (Middle)