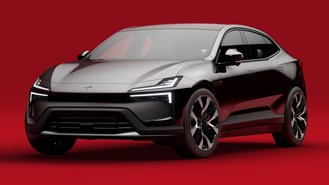 When Polestar showcased the 4 EV, the SUV's design shocked everyone as it lacked a traditional rear window. Then, at the automaker's first-ever Polestar Day, it showcased the design of the Polestar 5. Surprisingly, the Polestar 5 doesn't have a rear window either. InsideEVs had a chance to speak with someone at Polestar to get the low down on why the automaker decided to forgo a traditional rear window.
Speaking with Graeme Lambert, Head of Design & Tech PR at Polestar, InsideEVs learned that the lack of a rear window on the Polestar 4 and Polestar 5 was mainly for the vehicles' design. Polestar wanted both vehicles to have a sleek, heavily sloping roofline that's found on coupes. The automaker also wanted to be able to incorporate a full-length glass roof into the design of both options.
With modern safety regulations, this can be harder than it sounds. The outlet claims that with the rear window gone, Polestar could move the structural member that connects one side of the EV to the other further back. That helps bring the look the automaker wanted on top of ensuring the vehicles had the structural rigidity needed for handling and crash tests.
Lambert also points toward the usefulness of a rear window in vehicles with such a heavily raked roofline. "How often do you really look behind you, anyway?" said Lambert. He does have a point. In vehicles that have coupe-like designs, the windows are tiny and thick pillars usually dominate the view behind.
Instead of a traditional rear window, Polestar will be fitting both the Polestar 4 and Polestar 5 with a digital rearview camera, retaining the traditional rearview mirror that everyone is used to using. InsideEVs claims the camera for the digital rearview mirror is "absurdly clear." The camera should also provide drivers with a wider range of view out of the vehicle.
In theory, it sounds like a great idea. Digital rearview mirrors are becoming more common in vehicles. They're especially noteworthy in large SUVs and minivans where having three full rows of passengers can limit rearward visibility. At the moment, digital rearview mirrors remain an option on a lot of vehicles. From the look and sound of things, it looks like Polestar will offer a digital rearview mirror as standard.
With the Polestar 4 and Polestar 5, Polestar is setting a new trend with digital rearview mirrors. Depending on how consumers react to the change, we could see digital rearview mirrors become more common in mainstream vehicles.
Pictured: 2024 Polestar 4
Source: InsideEVs