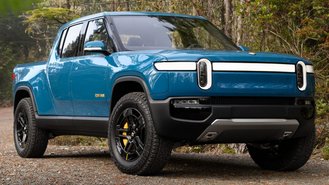 Rivian has announced a few major details on its upcoming electric R1T pickup and R1S SUV, as the vehicles' official delivery date approaches. For consumers that pre-ordered one of the electric models, configurators for both vehicles will go live on November 16. For everyone else, the configurator becomes available on November 23. Plus, we have a little more information on pricing and trims.
Officially, pricing for the R1T pickup truck starts at $75,000 with deliveries set to begin in June 2021, while the R1S SUV will cost $77,500 and start to go out to consumers next August. Both electric vehicles will be offered in Launch Edition trims that come with more than 300 miles of range, front bumper tow hooks, an air compressor, underbody shields, vegan leather upholstery, heated and ventilated front seats, ash wood trim, a special Launch Green paint job, yellow interior accents, 20-inch wheels, all-terrain tires, and a premium audio system.
The Adventure trim is the next step in line. Instead of adding features over the Launch Edition, it actually loses the special badging, 20-inch wheels, all-terrain tires, and special green paint job. The Adventure costs the same amount as the Launch Edition costs and deliveries are expected to begin in January 2022 for both the R1T and R1S.
The most affordable Explore trim starts at $67,500 for the R1T and $70,000 for the R1S. The trim loses even more features, coming with a standard audio system, matte black interior trim, heated seats, and a textile headliner. You'll have to wait until January 2022 if you want to purchase an Explore model.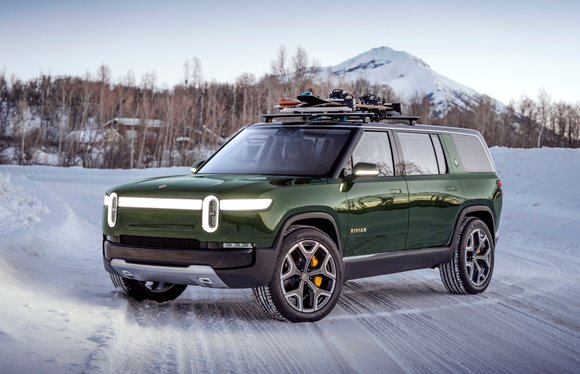 Another new feature that Rivian finally disclosed is its Driver+ system, which will be standard on both EVs. The automaker claims the system offers "true hands-free driving assistance," allowing the vehicle to steer, adjust speed, and change lanes with a command. Rivian claims its Driver+ system will be available for use on select highways at launch and that more road types will be added in the future. The system includes 11 cameras, five radars, and 12 ultrasonic sensors to give the EVs a 360-degree field of view.
Previously, we heard a lot about Rivian's 400-mile battery pack. Don't worry, that will still be offered. But with the R1T, it won't be available until January 2022 and availability for the R1S should come sometime after. Even more affordable R1T and R1S models with a 250-mile battery pack should be announced at the same time, too.
While Rivian officially came out in 2009, the automaker unveiled the R1T and R1S in 2018. So, when consumers actually take deliveries of their EVs in 2021, it will mark three years of waiting. Based on specifications, it certainly sounds like Rivian's first two electric vehicles will be well worth the wait.
Obviously, the launch of the R1T is sure to bring up comparisons against the Tesla Cybertruck and GMC Hummer EV. When it comes to pricing, the Cybertruck is the most affordable option, carrying a claimed starting price tag of $39,900. The Hummer EV is the most expensive, as the most affordable version will cost $79,995. Once again, Tesla takes the cake when it comes to range. Tesla's three-motor Cybertruck is expected to have over 500 miles of range, beating the R1T's 400+ mile figure and the Hummer EV's 350+ range. GMC hasn't confirmed towing capacity for the Hummer EV yet, but the Cybertruck can tow up to 14,000 pounds, while the R1T is rated at 11,000 pounds.
Rivian, Tesla, and GMC all have claim their pickups have excellent off-roading capability. When it comes to the R1T, Rivian states the pickup can crawl at a 100% grade, has 14 inches of ground clearance, and wade through three feet of water. One really interesting design feature on the R1T is its gear tunnel that can be used to store things like wetsuits, trail shoes, ski boots, and anything else that's up to 300 pounds. It also looks like Rivian will sell a bunch of accessories, like its camp kitchen that can slot into the gear tunnel and be used as a make-shift kitchen.
Being first on the market will greatly help the R1T, too. Deliveries of the Hummer EV are expected to start in fall 2021, while the Cybertruck won't be around until late 2022.