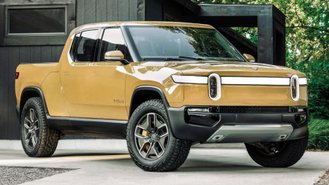 Tesla won't be the only automaker with its own exclusive network of electric charging stations. Rivian talked about coming out with a network of charging stations before, but didn't provide any real information on what it would look like until now. The electric automaker stated that it would not only come out with an exclusive network of chargers for Rivian owners to use, but also build 10,000 chargers for public use.
Rivian's Adventure Network will be comprised of 3,500 DC fast-chargers, at least to start with, that stretch the entire Continental U.S. and include chargers in Hawaii and Alaska. These fast chargers will be installed at over 600 sites and are expected to go live in 2023. The automaker's R1T electric truck and R1S SUV will be able to get 140 miles of range in 20 minutes when plugged into one of the fast chargers.
All Rivian owners have to do to use one of the fast chargers is to attach the plug. At first, the fast chargers will support 200 kW charging, but will be increased to 300 kW and higher down the road. Owners will be able to find these chargers along main roads and highways.
The automaker's Adventure Network sounds nearly identical to Tesla's Supercharger network. There are a few differences, as Tesla has over 20,000 Superchargers in North America and currently offers a max charging rate of 250 kW, which means users can get up to 200 miles of range in just 15 minutes.
Unlike Tesla and a lot of other automakers looking into electric vehicles, Rivian also has plans to introduce 10,000 public chargers across the U.S. and Canada that are called Waypoints. These chargers will also become available for use by the end of 2023, though they'll be located at restaurants, shopping centers, hotels, parks, and campsites. The Waypoints will have a charging speed of 11.5 kW and only be compatible with vehicles that accept a J1772 plug. The first set of Waypoints will become available in 42 parks across the state of Colorado, with each park getting two Waypoints each.
The R1S and R1T share a lot of components with one another. Both EVs will be available with 105-, 135-, and 180-kWh battery packs. The largest pack offers roughly 400 miles of range, while the lowest one is expected to be good for around 250 miles. The R1S and R1T will both come with all-wheel drive with power maxing out at 754 horsepower. Rivian will pack both vehicles with various off-roading goodies for serious capability on rough terrain. Deliveries of the R1T are expected to begin in June 2021, while the R1S will come out in August 2021.
Chargers are one of the main things holding consumers back from switching to EVs, as finding a place to charge an electric vehicle is far more difficult than finding a gas station. Additionally, fast-charging stations are in limited supply, so owners are looking at waiting hours to get a usable amount of range back with Level 1 or Level 2 chargers.
For Rivian, coming out with its own exclusive network is a great incentive for consumers to purchase on of its EVs. Offering 10,000 public chargers is a show of good faith and a way to get its name out in the open. Letting EV owners, regardless of make and model, use an extensive charging network will certainly help drive the push to more EVs, as it addresses one of the largest issues.