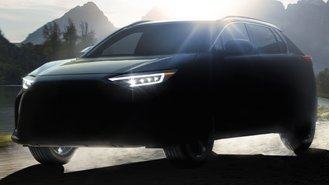 Toyota and Subaru are working together on more than just the 86 and BRZ sports cars. The two Japanese brands entered into a partnership a few years ago to jointly develop an electric platform for two new SUVs. Recently, we saw Toyota's version in the form of the bZ4X SUV Concept and now, Subaru's ready to showcase its version, which will be called Solterra.
The short press release that Subaru put out doesn't have a lot of information on the upcoming Solterra beyond confirming that it's on the way. As we expected, the Solterra is part of a joint venture between Subaru and Toyota and will sit on the e-SUBARU Global Platform. Toyota calls the platform e-TNGA. The Solterra will come with all-wheel drive, which we expect will be standard, just like the brand's other vehicles. The electric SUV will also have the rugged quality that Subaru's known for, which explains the Solterra name that comes from the Latin words for "sun" and "earth."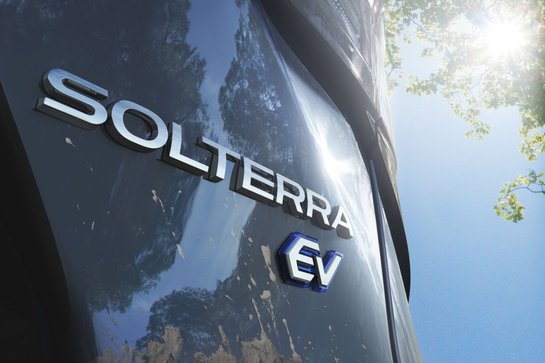 So far, that's all we know about the Solterra. Subaru's teaser images of the electric SUV aren't very revealing, as the majority of the vehicle is hidden under shadows. The headlights on the Solterra look similar to the ones that we saw on the bZ4X SUV Concept and the front end looks nearly as angular.
Based on Subaru and Toyota's partnership, we expect the Solterra and bZ4X to share platforms, battery packs, and electric motors. The SUVs will differ in designs, the way they drive, and feature content. If the two are anything like the Toyota 86 and Subaru BRZ, they'll be eerily similar to one another.
Currently, the Crosstrek Hybrid is the only electrified model Subaru sells. The PHEV utilizes Toyota's hybrid technology to offer up to 17 miles of all-electric range and up to 35 mpg combined. Seeing as how Subaru doesn't have an all-electric vehicle on sale, coming out with the Solterra is a huge step for the brand, as it's looking to play catchup. Chevrolet, Ford, Tesla, Hyundai, Kia, Nissan, and Volkswagen all have EVs on sale, so Subaru's lagging behind.
With Subaru claiming the Solterra will go on sale in 2022, we expect to get a lot more information on the electric SUV before the end of the year.