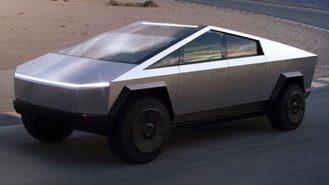 The Tesla Cybertruck arrived to a lot of fanfare and drew a lot of attention from Tesla fanatics and consumers interested in purchasing an electric pickup in 2019. Tesla quickly received a lot of orders for the electric truck, but things haven't slowed down, as Electrek reports that automaker has over 1.5 million reservations for the Cybertruck.
Since Tesla unveiled the Cybertruck in 2019, a lot has changed. Consumers can buy a few electric trucks now and Tesla's delayed the Cybertruck's release date multiple times. Buyers interested in learning about the Cybertruck are left out to dry, as Tesla has taken a lot of information about the model down from its website. Despite the fact that Tesla has been less than forthcoming about the Cybertruck and its arrival date, the automaker has over a million pre-orders for the truck.
The news comes from Electrek, which cites a crowdsourced Cybertruck reservation tally that claims reservations for the pickup truck have surpassed 1.5 million orders. That's a staggering figure for any vehicle and practically unheard of.
We think there are a few reasons why Tesla has received so many reservations for the vehicle. For one, the truck was announced in 2019 and was supposed to go into production in 2021. 2021 has come and gone and Cybertruck production still hasn't started. Tesla's continued to accept reservations for the truck, despite the continued delays. So, it's not like it received 1.5 million reservations in a month, it's been a few years now. Then, there's the refundable $100 reservation price, which allows everyone to put in a reservation for a model without the fear of having to worry about following through with an actual purchase.
The last reason has more to do with Tesla buyers than the vehicle itself. Consumers looking to purchase a Tesla see the automaker as a tech company and not a traditional brand. So, they're interested in being one of the first to have a new vehicle from the brand and have been waiting for Tesla to come out with an electric truck instead of even entertaining the idea of getting a model from another automaker.
It's important to point out that reservations don't always translate to a vehicle purchase. There's a very good chance that a lot of reservation holders will decide to get a refund instead of following through with their purchase once Tesla reveals actual information on what kind of specs the production version of the Cybertruck will have. Plus, Tesla could announce another delay, which could result in some people choosing to get a refund on their deposit.
Last we heard, production of the Cybertruck is expected to begin in the middle of 2023. That means some reservation holders will be waiting nearly four years for their reservations to advance into an official order. With Tesla struggling to keep up with demand for the Model 3 and Model Y, we doubt Tesla will be able to produce enough Cybertrucks to meet demand within the first few years. With over 1.5 million reservations, people are looking at waiting another few years or more after production starts before they'll be able to get a Cybertruck.
Source: Electrek