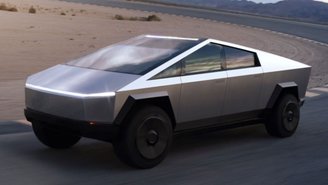 Tesla debuted the wonky Cybertruck to great fanfare in 2019. Originally, the all-electric company promised that the pickup truck would begin coming off the assembly line before the end of 2021. While Tesla has roughly four months to go to reach its original timeline, the automaker is delaying production of the Cybertruck to 2022. The new date can be found on Tesla's website when ordering the Cybertruck.
Tesla hasn't confirmed why it's delaying the Cybertruck. Since the automaker doesn't have a traditional public relations team, we don't expect a clear answer from the automaker. According to CNET, the issue could have something to do with Tesla boosting production of the Model Y. Lars Moravy, Tesla's V.P. of Vehicle Engineering, shed some light on the delay during Tesla's second-quarter earnings call last month.
"[The] Cybertruck is at a stage where we finished basic engineering of the architecture of the vehicle. With the Cybertruck, we are redefining how a vehicle is being made," Moravy said during the call. "As [Tesla CEO Elon Musk] said, it carries much of the structural pack and large casting design of the Model Y being built in Berlin and Austin. Obviously, those take priority over the Cybertruck, but we are moving into the beta phases of Cybertruck later this year and we will be looking to ramp up production at Giga Texas after Model Y is up and running."
The Cybertruck will be built at Tesla's new plant in Austin, Texas. As far as we know, Tesla's still building that factory. Once that facility goes online, its first priority will be to increase production of the Model Y. We're sure Tesla will want to get its new factory in Germany up and running before starting production of the Cybertruck, too.
When the Cybertruck was released, production of the tri-motor variant, which will be the most expensive model, was supposed to begin this year. The more affordable dual- and single-motor versions were supposed to start production in 2022. With the latest delay, we wouldn't be surprised to see production of the more affordable Cybertruck models be pushed back to 2023. Tesla's website says "production nears in 2022" for all three options.
With the Cybertruck's latest delay, we expect to see other automakers beat Tesla to market. The Rivian R1T, Ford F-150 Lightning, and GMC Hummer EV should go on sale before the Cybertruck. Despite the competition, we're sure shoppers will be more than happy to wait for the Cybertruck, which promises to have some impressive specs and a strange design.