When Tesla unveiled the Cybertruck roughly two years ago, the electric automaker quickly got the funky pickup onto its website. The truck was available in three versions with pricing ranging from $39,900 to $69,900. Tesla also broke down the truck's specs based on its configuration. Visit Tesla's website for the Cybertruck now and you're looking at a bare site. Tesla quietly and quickly took the Cybertruck's pricing, configurations, and specs down.
As Electrek points out, Tesla's site for the Cybertruck doesn't have any of the information it did before. Now, there's only a "Buy Now" button that allows you to place a $100 deposit on the truck. There's none of the information that was available for the past two years. The move is incredibly unusual and we're not quite sure if this is temporary or permanent.
Based on the drastic change, we think that the Cybertruck is going through a major overhaul, at least when it comes to pricing and configurations. Tesla could be reevaluating how much the pickup should cost and whether it will be available in single-, dual-, and tri-motor layouts. Pricing for the truck could also be up in the air, as a $39,900 starting price tag (which we assume included Tesla's gasoline savings) seemed a little unrealistic.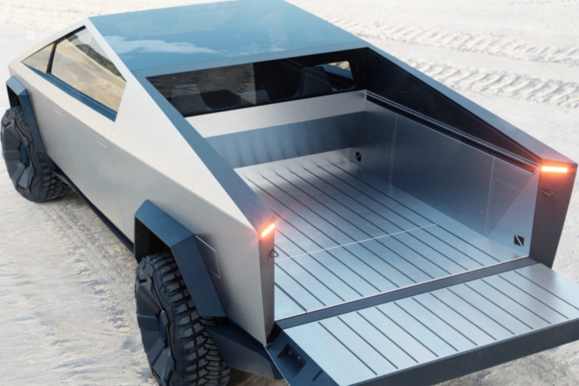 Tesla may have taken the Cybertruck's pricing, specifications, and configurations offline because it's recently delayed the model again. Originally, the Cybertruck was supposed to make its official debut before the end of 2021. That date was moved back to late 2022 last month.
Tesla was facing an uphill battle with the Cybertruck, as CEO Elon Musk warned that producing the truck would be a challenge because of its steel exoskeleton body. Then COVID-19 hit, the semiconductor shortage happened, Tesla decided to focus on increasing production of the Model Y, and the automaker decided to move its headquarters to Texas from California. A lot has happened since the Cybertruck's original unveiling. If anything, it sounds like Tesla needs more time to get the Cybertruck off the ground.
At the moment, we have a lot more questions than answers. Unfortunately, with Tesla deciding to get rid of its public relations team, getting answers on the situation is unlikely. For consumers that put a deposit down for a Cybertruck, keeping an eye on Musk's Twitter account is the best way to get any information on what's going on.