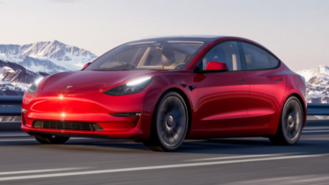 The CVOID-19 pandemic and subsequent chip shortage have forced automakers to get creative on finding vehicles to sell to consumers. Tesla, which has a listing of new and used cars you can purchase directly from the automaker on its website, has posted a few new cars on its site that are listed as being a "Demo Vehicle" and come with old battery packs.
Tesla's Inventory site currently has six demo cars listed for sale within a 200-mile radius from Sacramento, CA. They're all Model 3 Long Range All-Wheel Drive models that have an odometer reading that ranges from 408 miles to 1,579 miles. In addition to having a disclaimer for being a demo car, all but one of these used Model 3s also have a disclaimer for range capacity. "Range figures may be up to 12% lower due to battery age." Clicking on the "Learn More" buttons provides an explanation for the disclaimer.
These demo vehicles have battery packs that were manufactured in 2017. Because of their age, the battery cells may "have reduced capacity due to their age," leading to less range when new. According to the EPA, the 2017 Model 3 Long Range trims had a range of 310 miles. A decrease of 12% means that the sedans could have a range of 273 miles when fully charged.
While one would expect Tesla to be offering these demo vehicles with old battery cells at a discounted rate, that's far from the truth. These vehicles range from $60,050 to $62,150. A brand-new Model 3 Long Range All-Wheel Drive model costs $53,690 (with destination). So, if you're willing to wait until March 2022 for a new Model 3, you could save roughly $10,000 and have a vehicle with a new battery pack. We know what we would do.
The person that originally found these vehicles and posted the information on Twitter — Seth Horowitz — found the vehicles in Denver, CO; Miami, FL; Portland, OR; Austin, TX, and Honolulu, Hawaii. In the Twitter user's search, they found approximately 100 vehicles for sales with the "Demo Vehicle" disclaimer.
Battery degradation is normal for electric cars and electric appliances like smartphones. Studies have shown that batteries in EVs naturally degrade every year. The amount of degradation relies heavily on use and charging preferences. So it's not surprising to see used cars with this disclaimer. We are surprised to see the vehicles on sale at all, though.
Seeing a demo vehicle listed for sale from an automaker is rare, as they tend to pass through auctions before landing into someone's hands. And when they do go on sale, they're sold for large discounts. Then, there's the issue with the years. The vehicle is listed as a 2021 model, but the battery pack is from 2017. Did Tesla install an old battery pack into a new Model 3? We also have questions on whether these vehicles are covered by Tesla's eight-year and 100,000-mile warranty.
Since Tesla doesn't have a traditional public relations team to answer questions, we don't think we'll be getting answers from the automaker anytime soon. If anything, we'll probably get a better idea of what's going on with these vehicles when someone purchases one of them and posts the information on Twitter.
Check Out Telsa Model 3 Pricing Near You
Pictured: 2021 Tesla Model 3