Just last week, we saw that Toyota had filed numerous patents, hinting toward a possible lineup of electric vehicles. The patents outlined seven possible models called the BZ1, BZ2, BZ2X, BZ3, BZ4, BZ4X, and BZ5. It looks like the patents were right, because Toyota recently announced that it wants to have 70 electrified vehicles globally in its portfolio by 2025. Fifteen of those will be all-electric models and seven of them will belong to the new bZ family.
Seeing as how Toyota doesn't have an all-electric vehicle on sale in the U.S., this is a huge step for the brand. It also comes at an interesting time as California looks to ban the sale of new gasoline-powered cars by 2035, while Washington state has officially passed legislation that would do the same after 2030. The push for more electrified vehicles and a robust lineup of battery-powered vehicles is part of Toyota's plans to be carbon neutral by 2050.
Now, onto the recently unveiled Toyota bZ4X SUV Concept. The vehicle was jointly developed with Subaru and rides on the new e-TNGA BEV- dedicated platform. The electric SUV appears to be similar in size to the compact RAV4 SUV, but has an even more angular design. As far as concepts go, the bZ4X looks very close to being production-ready and how outlandish it looks.
The interior is different from what we've seen with modern Toyotas, as the digital instrument cluster now sits in an interesting section of the dashboard that's incredibly close to the windshield. A massive touchscreen dominates the center console, while Toyota includes an electric shifter and a button for one-pedal driving.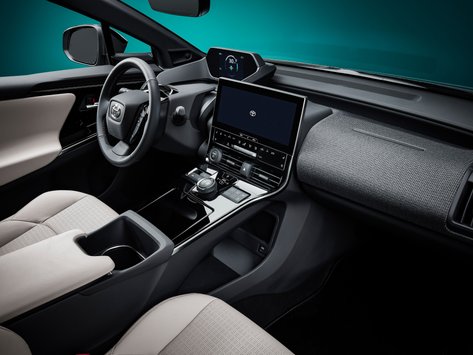 Toyota didn't provide any information on what kind of powertrain the bZ4X will have or battery size, so we're left to speculate. With the Ford Mustang Mach-E and Tesla Model Y boasting over 300 miles of range, we hope to see the bZ4X be able to travel at least 300 miles on a single charge. At the lower end of the spectrum, the bZ4X should be able to match the Chevrolet Bolt EUV, Hyundai Kona Electric, Audi e-tron, Jaguar I-Pace, and Volkswagen ID.4 with at least 250 miles of range.
We're hoping to hear more about the Toyota bZ4X SUV Concept shortly, as the automaker claims sales will start in 2022. The vehicle will be produced in Japan and China. With the plug-in hybrid RAV4 Prime carrying a starting price tag of roughly $39,000, we expect the bZ4X to start above $40,000.
Toyota's announcement to expand its electrified lineup to around 70 models globally by 2025 comes at the right time. California's ban on the sale of new gas vehicles will go into effect by 2035, while Washington has a quicker timeline, targeting 2030 as the date for the proposed ban. We're sure other states will follow suit will similar bans and timelines. No automaker is prepared for these bans and are all on their back foot. Seeing Toyota, which has zero all-electric vehicles on sale in the U.S., officially announce that it's going to be coming out with a bunch of new EVs in the future is a positive step.