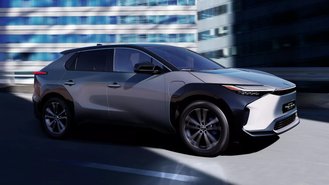 After betting on hydrogen and then stating that hybrids were the way forward, Toyota has changed its tune. Toyota just announced that it's investing $3.4 billion to develop and produce batteries in the U.S. through 2030. The latest investment is part of Toyota's global plan to invest $13.5 billion into batteries.
The latest investment will see Toyota establish a new company and build a new automotive battery plant in the U.S. in partnership with its metal trading branch called Toyota Tsusho. Production of batteries is expected to begin in 2025 and includes an investment of $1.29 billion. At first, the new company and plant will focus on producing batteries for hybrid vehicles. Eventually, batteries for battery-powered electric vehicles, plug-in hybrids, and fuel-cell vehicles will also be produced at the factory.
Toyota will use the battery plant to expand its knowledge on lithium-ion batteries. Currently, the majority of Toyota's electrified vehicles come with nickel-metal hydride batteries. If Toyota's looking into lithium-ion batteries, it's on the back foot, as quite a few brands are researching solid-state batteries.
The new battery plant will help Toyota reach its goal of having electrified vehicles account for 70% of its sales by 2030. To reach that goal, Toyota plans to expand its lineup of electrified vehicles to include roughly 70 models. Fifteen of those will be battery-powered electric cars, while seven will be Beyond Zero vehicles.
In addition to helping Toyota expand its lineup of electrified vehicles, the battery plant will help Toyota reduce the cost of its batteries. Earlier this September, Toyota claimed that it was looking to reduce the cost of its batteries by 30% by using different materials and restructuring the cells.
"This investment will help usher in more affordable electrified vehicles for U.S. consumers, significantly reduce carbon emissions, and importantly, create even more American jobs tied to the future of mobility," said Ted Ogawa, chief executive officer of Toyota Motor North America.
Toyota will share information on where the factory will be built, the production capacity of the facility, and other details in the future.
See Our Preview of the Toyota bZ4X
Pictured: 2023 bZ4X Concept Photos