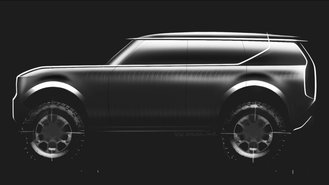 The all-electric push is giving automakers some leeway to bring names back from the dead and to explore some new areas of interest. In addition to coming out with funky electric vehicles, like the ID.Buzz, Volkswagen now has its sights set on coming out with an electric off-road brand under the Scout nameplate from the '60s and '70s.
Right now, Volkswagen's plans include coming out with an electric SUV and an electric pickup truck. The vehicle will be designed for the American market with production set to begin in 2026. VW states that the electric vehicles will be designed, engineered, and manufactured in the U.S. with the prototypes set to arrive next year. All VW is willing to confirm right now is that the electrified Scout brand will utilize a new platform.
At the time of the announcement, VW released a few sketches of the upcoming electric vehicles. The sketches preview silhouettes of the vehicles, which have a boxy design and short overhangs, just like the old Scouts. VW's sketches also include a swept-up window line that mimics the one found on the original models.
With the electric vehicles, Volkswagen is looking to capitalize on two of the most fruitful markets in the U.S. – pickup trucks and SUVs. While VW doesn't have a pickup truck on sale in America, an electric model would give the automaker a competitor to Rivian, Ford, Tesla, and General Motors. The electric Scout brand, if grouped under the VW umbrella, would help the automaker hit its goal of becoming an EV sales leader globally.
While Volkswagen isn't ready to provide more information on the return of the Scout name for a new off-road brand, a recent report by The Wall Street Journal claims that VW is aiming to sell 250,000 electric vehicles under the Scout brand annually in the U.S. Additionally, the decision to manufacture and design the vehicles in the U.S. comes at a time after numerous COVID-19 lockdowns in China and uncertainty in Europe because of the ongoing war. VW will reportedly be investing more than $1 billion into launching the Scout brand.
The Scout dates back to the '60s when International Harvester, a truck and tractor maker, introduced the model as a family vehicle capable of tackling different types of terrain. Production of the Scout ended in 1980. International Harvester is now known as Navistar International Corporation and is part of the Traton Group, which resides underneath the VW umbrella.
Pictured: Volkswagen Scout SUV Sketch (Top), Volkswagen Scout Truck Sketch (Middle)