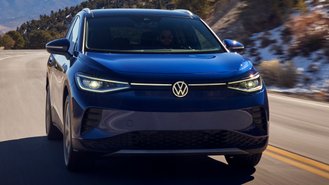 Volkswagen is offering dealers low-interest loans of up to $100,000 to sell its next generation of EVs. According to a letter sent to dealers, the EV Readiness Dealer Loan Program is meant to help dealers upgrade their facilities at special rates prior to the arrival of the brand's "ID" family of electric vehicles here in the U.S.
Considering just how important the ID family will be in VW's overall future strategy, seeing a program like this isn't all that surprising. However, it could help alleviate some of the initial investment costs associated with gearing up to sell and service the VW brand's first 100% electric vehicle since the e-Golf was discontinued.
Run by VW Credit, the loan program could help make it easier for more dealers to sell the upcoming EVs. A closer look finds that the offer has actually been available since mid-November, although the fine print states that dealers only have until March 31 to apply. That's not much time before the first model arrives.
Here in the U.S., the 2021 Volkswagen ID.4 will arrive first as a crossover capable of up to 250 miles of range. Pricing will start at $41,190 with destination, although the availability of a full $7,500 federal tax credit could help lower its cost to as low as $32,495. And that's before state & local plug-in incentives and rebates.
VW has been taking $100 reservations for the ID.4 since last September. The First Edition is due to arrive early this year but has already sold out according to VW's online reservation site. The next style consumers will be able to buy will be the ID.4 Pro by sometime mid-year with a promotional lease starting at $379/month.
ID.4 prices could make it quite competitive. That said, new entrants like the Ford Mustang Mach-E (MSRP $43,995) and Chevy Bolt EUV (MSRP $33,995) could be compelling, too. The Mach-E is already on sale with an unusual buying option called Ford Options Plan offering a potentially more affordable alternative to leasing.
As we reported recently, Ford is working to get dealers onboard with its next-generation EV certification standards. Ford says dealers can expect to invest an average of $35,000 to attain certification and be able to take online reservations for a range of models that will eventually include an all-electric F-150.