The majority of new electric concepts that are coming out are SUVs. No surprises there, as automakers continue to prioritize the body style to appease shoppers. Volkswagen's latest concept car is called the ID. Aero concept and it's a preview of an all-electric sedan that will sit at the head of VW's electric lineup as its flagship model. While the ID. Aero concept's design is subdued, it's refreshing to see a stylish all-electric sedan.
On the design front, the ID. Aero looks similar to the ID. Space Vizzion that VW debuted in 2019. Of course, the ID. Aero looks more polished and ready for production. The smooth curves and rounded edges on the ID. Aero make it look like it will slip through the air, which is exactly what Volkswagen was going for. The concept has a drag coefficient of 0.23 and is meant to be incredibly aerodynamic. That figure makes the ID. Aero just as aerodynamic as the Tesla Model S, but a little behind the Mercedes-Benz EQS that has a drag coefficient of 0.20.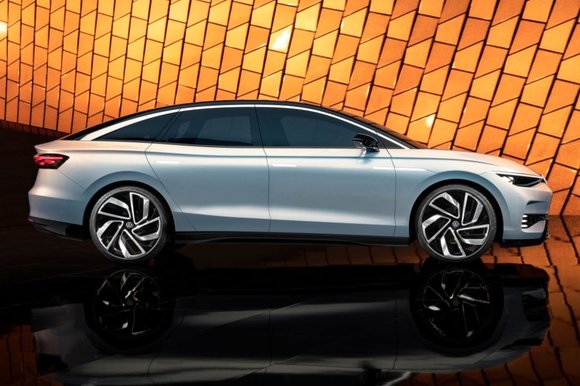 The ID. Aero is approximately 16 feet long, making it a little longer than the current Arteon, and has a sweeping roofline, a full-width light bar at the front, a full-width rear taillight bar, and a black roof. The concept isn't anywhere near as outlandish as the ID.Buzz minivan, which isn't a bad thing. The ID. Aero concept's toned-down styling leads us to believe that the upcoming production version should have near-identical styling.
Volkswagen doesn't have any information to share on the ID. Aero's powertrain, but states that the vehicle has an estimated range of up to 385 miles on the WLTP cycle. We expect that figure to drop to around the 300-mile mark on the EPA cycle. The automaker didn't provide any pictures of the ID. Aero's interior, but we're expecting a similar design as the ID.4 with more high-end touches.
A production version of the ID. Aero will go on sale in China in the second half of 2023. We expect VW to bring a version of the sedan to North America, but it might look different and have different specifications to the one sold in China. VW should showcase the U.S.-ready version of the ID. Aero before the vehicle becomes available in China. When the ID. Aero goes on sale, we expect the electric sedan to compete with the Hyundai IONIQ 6, Tesla Model 3, and Polestar 2.