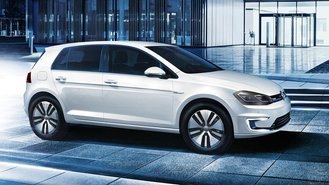 The Volkswagen e-Golf appeared on the road back in 2015 as another contender in a rapidly-expanding segment. VW's plan was simple back then: take everything good from the Golf and add an electric powertrain into the mix. While the e-Golf is still on sale and will be for the next few years, it sounds like VW has plans to kill the model before the introduction of its all-new electric vehicles.
According to our recent analysis, less than 10 e-Golf models are available nationally. So, the e-Golf might be "on sale," but VW is making them awfully hard to find. Volkswagen spokesperson Mark Gillies confirmed that the e-Golf would be on sale for 2018 and 2019 in special markets. According to our records, these include California, Connecticut, Maine, Maryland, Massachusetts, New Jersey, New York, Oregon, Vermont, and Washington D.C. Gillies, though, stated that the e-Golf would be discontinued in 2020 when the I.D. family of EVs goes on sale.
The e-Golf may have been one of the better options when it first came out thanks to its sporty, compact hatchback DNA, but better competitors have come out. With its 35.8-kW battery pack, the e-Golf has a range of 125 miles. That may be more than the BMW i3 and i3s, Hyundai Ioniq Electric, and Kia Soul EV, but it's less than other offerings like the Chevrolet Bolt EV, Nissan Leaf, and Tesla Model 3.
Instead of updating the e-Golf to be competitive with the Leaf, Model 3, and Bolt EV, Volkswagen is busy coming out with its I.D. family of electric cars. These include the I.D. Crozz, Buzz, Vizzion, and I.D. hatchback. The I.D. hatchback is expected to be the first vehicle out from the automaker under the new lineup and will have a range of at least 250 miles.
If Volkswagen manages to keep prices down for its I.D. family and ensures the vehicles have range that match modern competitors, the vehicles should be more competitive than the e-Golf and make it redundant.