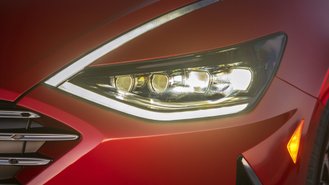 Modern cars are safer than ever. Thanks to advanced driver-assist features, state-of-the-art structures, and a variety of airbags, passengers are cocooned in safety. But if there's one area where modern are cars failing to meet safety standards, it's their headlights. According to the Insurance Institute for Highway Safety (IIHS), headlights in cars are worse than previous years, as cars these days don't illuminate roads acceptably. Additionally, cars with headlights that earn a rating of Good from the IIHS are scarce.
"Many carmakers still treat high-quality headlights as extras, rather than essential safety features," said David Aylor, manager of active safety testing at the IIHS.
Poor headlights are a problem for consumers because the institute claims that roughly 50% of all fatal crashes in America occur in the dark. Furthermore, approximately 25% of fatal automobile incidents occur on unlit roads. Having headlights that don't illuminate a road properly can increase the chance of getting into an accident. That makes a lot of sense. But what doesn't, is the fact that automakers continue to sell different headlight systems of different quality on new cars.
As it's done in the past, the IIHS wants to force automakers to make a change. Going forward, 2020 models must be equipped with headlights that earn a rating of at least Acceptable across all trim levels to qualify to be a Top Safety Pick+. Previously, automakers only had to offer headlights that earned at least an Acceptable rating as an option to be eligible for the institute's highest award.
The IIHS hopes that the small change will result in more headlights that earn a better rating in the future. Out of the 156 vehicles that the IIHS has tested so far, only six come with Good-rated headlights as standard throughout a vehicle's respective range. Acceptable-rated headlights are the lowest-rated units available on an additional 31 vehicles. From 2019 models, that represents a modest increase of just 7% that were available with headlights that earned a rating of Good or Acceptable. The number of vehicles that are only available with Poor-rated headlights is down, too, as only 30 models fit into that mold in 2020. That number was at 36 in 2019.
While the IIHS can make the necessary changes to force automakers to add better headlights to vehicles, it may not be any easier for consumers to get into new cars with the updated units. As the IIHS points out, some automakers don't produce vehicles with Good-rated headlights, especially when they're optional extras, in large quantities. The institute, for instance, attempts to rate every single headlight option that automakers offer on new cars. But even the IIHS has trouble finding optional headlight systems at local dealerships to test. If the IIHS can't find a vehicle to test, it's highly unlikely that consumers will be able to find a vehicle with the headlights to purchase.
Currently, the IIHS rates headlights in a few tests. The assessments include checking how far the headlights illuminate the road ahead as the car travels in a straight line and in curves. Naturally, both low beams and high beams are tested. For a vehicle's headlights to earn a rating of Good, the low beams must illuminate the right side of the road to at least 325 feet ahead with its low beams. Poor-rated headlights illuminate up to 220 feet of the road ahead. Points are deducted for headlights that produce glare that can blind oncoming vehicles, while extra points are awarded for headlights that come with high-beam assist.