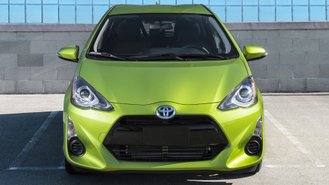 The Toyota Prius c officially saw its demise earlier this year after the 2019 model finally sold out. Despite that fact, we still had to check if the car had a pulse after noticing that the EPA website lists a "2020 Prius c". Toyota's answer? Dead means dead. That means no "Pet Sematary" for the old Prius c.
According to Toyota, the EPA's website is simply incorrect. "We are definitely not selling the Prius c in the US" responded spokesperson Nancy Hubbell, adding that that company is working with the EPA to correct the error. At this point, those wanting a Prius c will likely have to turn to a pre-owned listing.

Introduced in 2012, the Prius c was the most affordable car in the Prius family. While that family has withered somewhat, the underlying technology lives on in vehicles like the RAV4 Hybrid. The Prius c was rated at 46 mpg overall, although this was eventually eclipsed by the 56 mpg Prius Eco and 52 mpg Corolla Hybrid.
When the Prius was discontinued, it had a starting price of $22,485. Now, the most affordable hybrid is arguably the Hyundai Ioniq Hybrid ($23,330). The Ioniq is rated at up to 58 mpg in overall driving, making it one of the most fuel-efficient gasoline-electric hybrids on the market today.
Overseas, Toyota recently unveiled a new hybrid version of the Toyota Yaris. As noted by Green Car Reports, the car uses a new 1.5-liter hybrid system with optional all-wheel-drive. Here in the U.S., the Yaris lives on as a Mazda-derived sedan and hatchback utilizing a traditional gas engine.