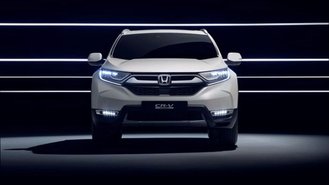 Crossovers may have taken over roads across the globe, but the majority of automakers still haven't figured out a way to stuff a hybrid powertrain into the compact utility vehicle with any lasting sales success. Honda is the latest automaker to enter its hat into the crossover hybrid scene with a CR-V Hybrid Prototype that it plans to reveal at the Frankfurt Motor Show later this month.
Honda already has plans to release a CR-V Hybrid for the Chinese market, which it made clear at the Shangai Auto Show earlier this April. But if the automaker were to release an electrified version of the crossover in Europe, it would mark the first time Honda has ever offered a hybrid SUV on the continent. And there's a good chance that the vehicle will make its way over to the US (although Honda was mum on the topic when speaking to our friends at The Detroit Bureau).
As far as power goes, the CR-V Hybrid Prototype utilizes a system that's similar to the Accord Hybrid, with a 2.0-liter inline-four connected to two electric motors. While Honda didn't provide any power figures for the prototype, the system in the Accord Hybrid generates a total of 212 horsepower. Honda's system makes do with a single fixed-gear ratio, rather than the continuously variable transmissions favored by rival Toyota. The CR-V Hybrid has three self-explanatory driving modes – EV Drive, Hybrid Drive, and Engine Drive – which alter the components that power the vehicle.
In EV Drive mode, the CR-V Prototype is operating on battery power only. When in Hybrid Drive mode, the gas engine provides power to the electric motors, with excess power from the traditional engine being diverted back to charge the battery pack via one of the electric motors. Lastly, in Engine Drive mode, the CR-V Hybrid Prototype gets the majority of its power from the gasoline engine and uses the electric motors for added performance.
Honda hasn't stated whether the CR-V Hybrid will be sold in the US., but looking over figures for other hybrid crossovers, it seems like no-brainer. Toyota sold 5,128 units of the RAV4 Hybrid in August and has sold a total of 30,593 examples of the crossover so far this year. With Honda confirming that more electrified vehicles are on the way, a CR-V Hybrid would be a smart addition to the automaker's American lineup.