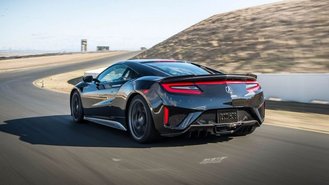 Factory delivery programs – an arrangement where a buyer picks up a new vehicle at the facility where it is made – have been popular among devotees of upscale nameplates for decades. Honda wanted to do such a program for its new Acura NSX supercar, but instead of settling for a simple key handover, the staff in Marysville is upping the game with an immersive factory visit and orientation session for NSX customers.
The NSX Insider Experience is tailored to feel more like a full business client visit than a simple delivery program. Participants spend the night in a special suite at the upscale Joseph Hotel in Columbus, then are chauffeured out (in an RDX) to the Performance Manufacturing Center in Marysville for an hour at the exclusive Honda Heritage Center, a two-hour tour of the NSX's science-fiction-grade assembly process, lunch, and two hours on Honda's test tracks with a driving coach to assist in getting acquainted with the newly-minted hypertech hybrid speedster.
Honda assigns a guide to each participant throughout the stay and a dedicated concierge is available to assist with bookings and arrangements throughout the trip to and through central Ohio.
Given that the NSX is itself a pretty pricey proposition – MSRP is $156,000 before customers select such touches as $6,000 pearlescent paint and $9,900 carbon-ceramic brake discs – it should come as no surprise that the NSX Insider Experience is priced to match. Packages start at $2,787; options for more track time, a visit to the powerplant assembly area in nearby Anna, and arrangements to bring a fortunate guest along are available at appropriately escalating prices.