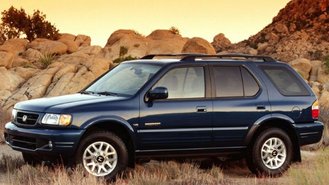 Buoyed by the hot-selling crossovers already in its lineup, Honda is allegedly preparing to add another to satisfy American demands. But is it reviving the name of an old Honda model?
According to Car and Driver, Honda is expected to launch a new SUV next year slotting between the CR-V and Pilot, offering five seats, and rivaling the likes of the Ford Edge and Nissan Murano. But what the publication also found was a filing with the US Patent and Trademark Office for the name "Passport."
Some may remember the Honda Passport, sold from 1994 to 2002, as Honda's first SUV in the US. Based on the long-dead Isuzu Rodeo, it sold in reasonable numbers until it was supplanted by the Pilot, which was an all-Honda design.
Trademark filings aren't always the most reliable indicator of a new car's name, and "Passport" was already lifted off of a Honda motorcycle before being applied to an SUV, so the company could be protecting the name from being attached to another automaker's vehicle.
But we do have good reason to believe Honda will slot a vehicle in between its two immensely popular SUVs. The upcoming SUV should be based on a Pilot, offering a V6 engine with either front or all-wheel-drive with seating for five. It should also be slightly less expensive than the Pilot's current $30,595 base price, but likely a few thousand dollars more than the 2017 CR-V's $24,045 starting point.
If it's called the Honda Passport, expect it to appear sometime in 2018.