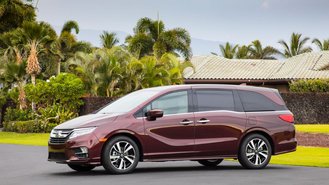 The Honda Odyssey may be one of the safest minivans on the road, but that doesn't mean the vehicle is immune to recalls. Since the automaker manages to shift a lot of units of the minivan every month, the recall Honda issued is a big one.
Honda recently issued a recall that affects roughly 800,000 Odyssey minivans from the 2011 to 2017 model year. The issue involves the second-row outboard seats that could tip forward if not latched properly. If owners adjust the second-row outboard seats side-to-side or remove and then reinstall the components, the seats may tip forward under hard braking if not latched properly.
Honda claims that it has received 46 reports of minor injuries related to the issue.
The automaker doesn't have a fix yet, but is arduously working on one. Once a repair has received approval, Honda will bring minivans in to repair the rear seats for free and advise owners of the proper way to operate the second row of seats. Until then, Honda will make additional information for Odyssey owners available to ensure they're installing and using the second row of seats properly.
Honda will send Odyssey owners a notification in the mail toward the end of December, providing them with more information on the recall. The automaker says owners will receive an additional notification once a fix is approved.
Having a sensation of déjà vu? Honda's had trouble with the Odyssey's second-row seats before. Last December, the automaker issued a recall that involved the minivan's second-row seats for a release lever that could remain in the unlocked position, allowing the seats to move without warning. That recall affected roughly 641,000 minivans from the 2011 to 2016 model year.