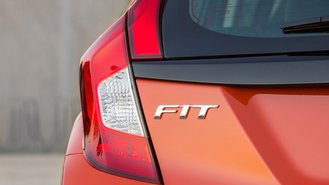 Honda revealed the all-new fourth-gen Fit at the Tokyo Auto Show this week. The little subcompact hatchback's sporting a new look, a new hybrid powertrain that has the brand's updated two-motor design, and a new rugged Crosstar trim. Unfortunately, while the new Fit looks like a fantastic vehicle, the car's already being delayed. And we still don't know if it will come to the United States.
The fully redesigned Fit was originally expected to be released in Japan this November, but Automotive News reports that the date has now been pushed back to February 2020. The reason for the delay is because Honda altered the specifications for the subcompact car's electric parking brake. More specifically, Honda switched from drum-type brakes from Dutch supplier Chassis Brakes International to disc-style brakes because of supply issues.
"This change will take some time, but I am sure we can deliver the reliable car to customers in February," said Honda CEO Takahiro Hachigo. "I believe this delay won't have much of an impact in the long run."
Honda hasn't confirmed or denied whether the new Fit will be sold in the United States. Small hatchbacks aren't doing too well in America, as Ford nixed both the Focus and the Fiesta from its lineup. In terms of Honda's line, the subcompact Fit isn't selling as well as the brand's subcompact crossover, the HR-V.
Underneath the attractive new styling that's more modern and not as cute as the model that's currently on sale, the new Fit is just as practical and spacious as ever. Honda designed a new A-pillar and dashboard for the car to offer drivers with improved visibility out of the vehicle.
The Fit also comes with the automaker's new body-stabilizing seats, a first for the company. The seats, in Honda's words, are engineered to make long drives less tiring. Rear passengers get new seats, too, with thicker padding, while maintaining the ability to have multiple seat arrangements.
Major news for the Fit, though, is the availability of a two-motor hybrid powertrain. Honda is staying quiet on details about the hybrid setup, only saying that the electric motor will help the hatchback operate smoothly and result in improved fuel economy.
Other new features on the updated Fit include a front wide-view camera that will become a part of the brand's Honda Sensing suite of features and a short-distance automatic emergency braking system.
With the changes, the Fit looks more appealing than before, which is saying a lot because the current model is a leader in the subcompact segment. While we'd love to see the hatchback be sold in America, crossovers continue to be in demand and there's no end in sight to their popularity. For other markets, the Fit will go on sale next February.