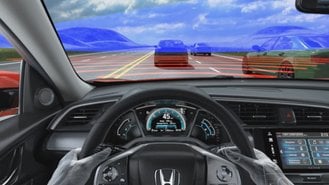 Honda Sensing, the automaker's suite of active safety technologies, will be standard on all 2022 model-year vehicles, the automaker announced. By 2020, 95 percent of its vehicles will come standard with automatic emergency braking, meeting a voluntary commitment two years early to offer the technology
Sales of Honda vehicles with the technology have reached a million units with 69 percent of 2018 model-year cars coming equipped with AEB. From 2016 to 2017, cars sold with Honda Sensing have doubled to more than 50,000 vehicles per month.
The suite of active safety technology includes collision mitigation, forward collision warning, lane keeping assist, road departure mitigation, and adaptive cruise control, all in a bid to prevent collisions
A study from the Insurance Institute for Highway Safety and the Highway Loss Data Institute, shows vehicles equipped with Honda Sensing are doing just that. The study looked at 2016 Accords, Civics, and Pilots against non-Honda Sensing examples that served as the control group. The study found Honda Sensing-equipped vehicles were 11 percent less likely to file a claim regarding damage to other vehicles or property, 28 percent less likely to cause injuries to people, and recorded collision claims $379 lower on average.
Honda Sensing is standard on the 2018 Honda Clarity and Accord. Later this year, the Honda Insight will also have the safety suite as standard. It's an available option on the Fit, Civic, CR-V, Pilot, Ridgeline, and Odyssey and is usually priced around $1,000 on lower trims, while it's a no-cost feature on range-topping models.