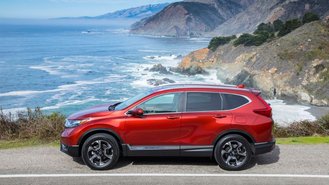 From its humble beginnings, Honda's byword has been "dreams." The company's first full-size motorcycle was named the Dream, the corporate slogan is "The Power of Dreams," and now its 2017 Super Bowl commercial will push the game's sizable audience to dream big and always go forward on their way to doing great things.
If this all sounds more like a commencement speech than an ad for a new crossover, that graduation-day undercurrent is backed up by the cluster of speakers presenting those bromides -- or the animated versions of their earlier selves, as seen in the pages of another graduation-day necessity.
After the nine-part motivational speech, with some lines delivered by stars who notably don't generally do advertisements, the minute-long ad concludes with the presentation of the revised 2017 CR-V.
Per AdAge, Honda's current agency RPA created the spot and hopes it will also motivate significant social-media engagement, although expecting people to proudly share their yearbook photos may be problematic.
Just ask Jimmy Kimmel.