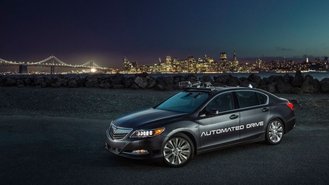 Honda was once the innovator of the automotive realm, as it developed edgy cars with technology that made other automakers drool. Lately, however, it has almost rested on its laurels and allowed other automakers to handle working the bugs out of new technology. This has resulted in a slight downward turn for the once-mighty automaker, as quality issues, like its Takata airbag issue, and lack of innovative features have begun taking away some of its prestige. Honda is now trying to get its swagger back by doing a figurative cannonball into the deep end of autonomous driving.
After years of not seeing Honda working on any autonomous technology, last week, the automaker held a display at the GoMentum Station—an autonomous-vehicle testing area—with an autonomous Acura RLX. The focus of this testing stint was to show off the autonomous RLX's ability to avoid stationary objects. Honda did so by placing a polo-wearing dummy in the middle of the simulated road on the testing grounds and aiming the RLX toward it. Instead of rolling over the dummy in an explosion of fiberglass and plastic, the RLX neatly swerved around the mannequin and back into its lane in front of a group of journalists.
While this testing is cool, the real news is the fact that the typically secretive Honda invited press folk to this event. This is a clear sign that Honda realizes it needs to demonstrate that it's in the game. We'll continue monitoring Honda's progress in this segment and bring you updates as they become available.
While it'll be quite some time before the RLX actually gets full-autonomous tech, there are still plenty of great reasons to buy Acura's range-topping sedan. Not only does it have tons of luxurious features, but it also has great deals right now. For example, qualified buyers can pick up the 2016 model for just $499 per month on a 36-month lease with only $3,999 due at signing. There are also huge manufacturer-to-dealer incentives available on the 2016 RLX right now.